051 How Food Policy Impacts Women's Health with Sheila Krumholz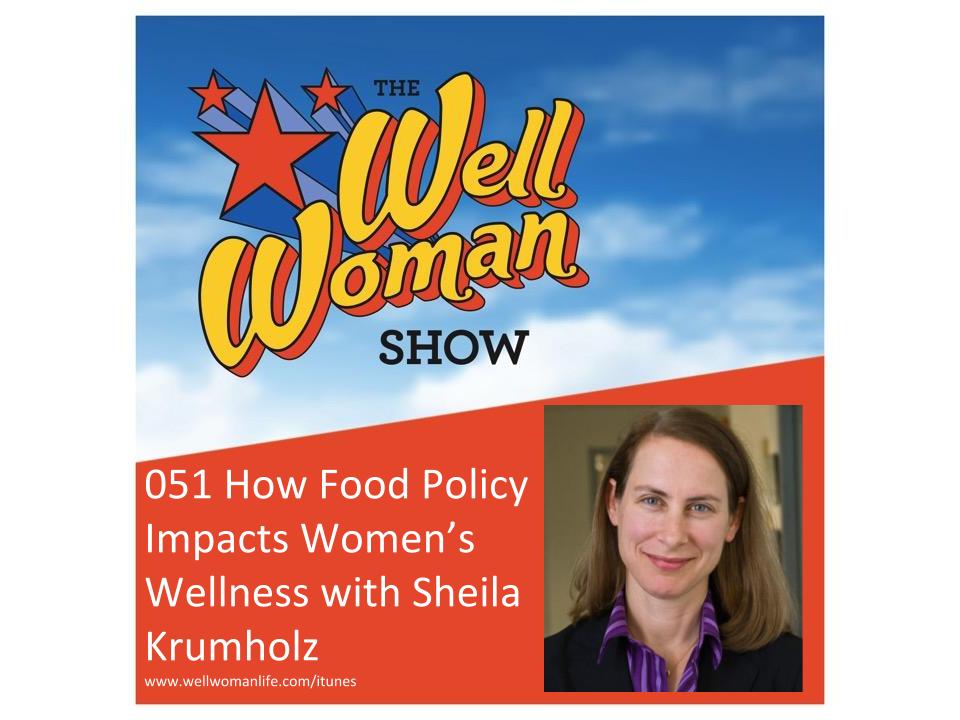 Do you ever find yourself strolling through the grocery store seeking out the healthiest options, and it seems as though nearly everything has added sugar? This isn't just happenstance. And it's not just that food companies like to add sugar to their products; there are actually policy decisions that allow for this sugar phenomena. And it's not just sugar. According to OpenSecrets.org executive director Sheila Krumholz, nearly all of the food decisions we are offered are influenced by policy, and more often than not by money in politics.
In this episode I speak with Sheila Krumholz. Sheila is the Center for Responsive Politics' (also known as OpenSecrets.org) Executive Director, the liaison to its board and major funders and its primary spokesperson. OpenSecrets.org is a transparency organization that seeks to expose all and any money that comes into or out of politics. Sheila became executive director in 2006, having spent eight years as the Center's research director, supervising data analysis for OpenSecrets.org and CRP's clients. She first joined the organization in 1989 as assistant editor of the very first edition of Open Secrets, the Center's flagship publication. In 2010, Fast Company magazine named Sheila to its "Most Influential Women in Technology" list. Sheila has a degree in international relations and political science from the University of Minnesota. In this episode Sheila and I talk about the importance of developing and maintaining a reputation of respect and trustworthiness, why keeping money out of politics matters, and how it can trickle down to significantly impact your health and the health of your family.
Get Giovanna's FREE worksheet -Communicate My Purpose!
What You'll Discover in This Episode
How you can avoid negative policy decisions regarding the health and food options for you and your family and support positive ones

What you can do to educate yourself about money in politics, and how you can make a difference

How you can make grassroots efforts to influence larger political decisions
More About Sheila
As executive director of the Center for Responsive Politics (CRP) Sheila helps ensure the mission of the organization is achieved, which is at its core to "study how money flows into politics and how it influences politics." The organization arose in the Nixon era, when there was a "sense in our nation that politics are crooked and politicians are corrupt." Corruption arises out of monetary incentive, so the CRP sought not to keep money out of politics, because they would then have a leaning in the political process, but rather to report these financial relationships to the public. "As soon as you set up rules, it has to be recognized that there will be highly paid political operatives who will look for ways around them."
Sheila explains that most people in the general public don't directly engage with the CRP's resources but they do receive the information indirectly. The average American doesn't t have time to look into money in politics, but reporters use CRP as an important resource to impart this information to the public. As the public is comprised of the voters, she urges people to find reliable news sources and vote, because "even if people are aware [of CRP], how useful is it if they're not engaged with politics?"
Sheila explains that it is imperative that the CRP is not an advocacy organization. She understands that the organizations that are flowing money into politics to influence policy decisions "are businesses and they need to protect their profits." She explains that "they have a constitutional right to be heard." However, "we have a right and responsibility to protect the public good." It comes down to "protecting the few versus protecting the many." By simply providing information and not taking a side, the CRP puts the knowledge and decision in the hands of the voters. "Without transparency, voters can't do their jobs."
Check Out the Links Mentioned in This Episode!