030 Achieving Greater Health and Wealth by Overcoming Subconscious Blocks with Elaine Lopez-Bogard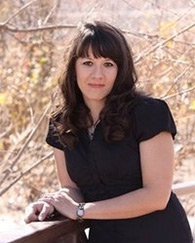 Sometimes in our lives we find ourselves reaching a ceiling, or stuck on a mental block. We intuitively know that we could be achieving more, but there is something deep down inside that is keeping us from getting there. According to Kinesiologist Elaine Lopez-Bogard, it may be that we are unable to access this mental block in our conscious mind. Instead, she suggests, we ought to be approaching the solution by bypassing our conscious mind and accessing our subconscious through body work.
Elaine Lopez-Bogard is an Albuquerque-based Kinesiologist, Reflexologist, and certified Natural Health Professional. Elaine received her certification as a Reflexologist from the New Mexico Academy of Healing Arts in Santa Fe and in 2014, she received certification as a Holistic Kinesiology. Elaine brings her expertise in aromatherapy and combines the therapeutic benefits of essential oils with reflexology and kinesiology to promote the natural healing process. Currently she has a private practice where she works with clients to help restore and maintain their body's natural balance and encourage healing through reflexology, kinesiology and aromatherapy. Today I talk with Elaine about Kinesiology, healing from within, and how to use mind-body connection to achieve greater health and wealth.
Get Elaine's FREE Tips for Emotional Freedom Technique!
What You'll Discover in This Episode:
How Kinesiology works and how it can help you

Signs that you may have a mental block that is preventing you from achieving more, and what you can do about it

What you can do on a day-to-day basis to overcome anxieties or subconscious blocks that are holding you back
Get Elaine's FREE Tips for Emotional Freedom Technique!
More About Elaine
Elaine's interest in alternative medicine came from a personal experience. Prior to seeking out a certification at the NM Academy of Healing Arts, she was working as a web and graphic designer. In this position Elaine spent hours at a desk behind a computer, where she felt as though "it was sucking the life out of me." In addition to feeling unhappy, she was experiencing a handful of health concerns, including migraines, stomach problems, and issues with her lungs. She says that "there was a point in my life when doctors didn't know what was wrong with me," and she thought "I had to live like this."
Luckily Elaine had friends who worked in alternative medicine, and she was able to get treatment from them. After seeing incredible results in a very short time, Elaine was so inspired that she decided to make a career change. She says that going to the NM Academy of Healing Arts for an open house was a pivotal moment in her decision. At the open house, she introduced herself to the Reflexology program director and asked if there would be any interest in trading classes for Elaine's website design skills. The director looked to her and said "just yesterday we decided that we need to hire a web person. This is perfect timing."
Since receiving her Reflexology certification from the NM Academy of Healing Arts, Elaine has expanded her education and practice to include components of kinesiology and aromatherapy. Today Elaine maintains a private practice that focuses on helping clients to overcome physical and mental blocks to progress in their lives. She finds that this work is particularly helpful for entrepreneurs, who often try to 'think their way' our of imbalances or career barriers. She explains to these individuals that, "in our subconscious mind we have these limiting believes that don't allow us to reach out full potential." For those clients, Elaine's work can be especially beneficial as she can help "bypass the conscious mind, go directly to the subconscious to find out exactly what is going on." She explains, "when subconscious mind agrees with conscious mind, that's when the magic happens. That's where real shifts can happen, in health and in wealth."
Describe one personal habit that contributes to your well-being:
Gratitude.
What advice would you give to your 25 or 30 year old self?
Listen to myself more. Love myself more.
Check Out The Links Mentioned in This Episode!
https://www.facebook.com/ElaineLBogard/
The New Mexico School of Natural Therapeutics