059 Visioning Your Life with Giovanna Rossi (Part One of Two)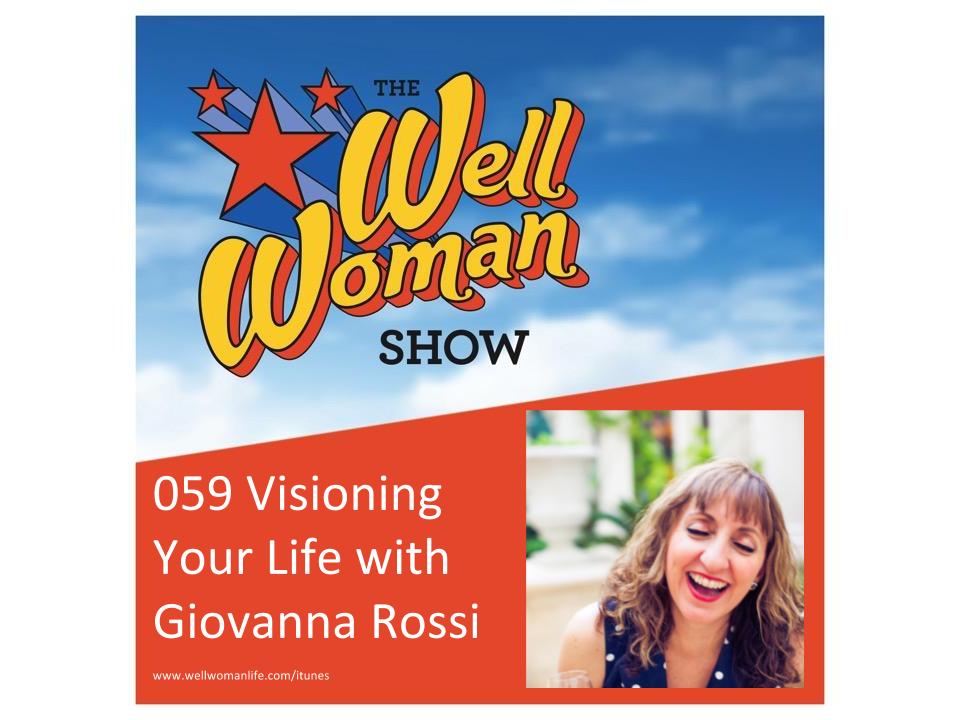 Today on the show I'm going to talk about visioning and stepping into leadership in your life. The next solo show will be Part Two, probably in a couple of weeks from now, on goal setting and achieving your goals – so it will be a great follow up topic to this week's show.
If you're listening to this show at a different time of year, not right when it came out, it's still relevant for you because you can really do this process at any time.
Get the FREE Visioning Your Life worksheet
I like to talk about visioning and goal setting in March because it's usually when people are in a bit of a slump with their resolution and goals for the year. Here's the good news…there's still time to set and achieve your goals this year! Don't let yourself be derailed just because you've strayed a little for your plans for this year. Now is the time to revisit them and dig deep for the truth of what's yours this year. Is it finishing that book or story you'v been working on? Is it training for a triathlon or walking a mile every day?
Get the FREE Visioning Your Life worksheet
Don't forget to download the free worksheet the goes with this show!
It walks you through the visioning process and summarizes what I talk about here today.
Let's take a step back and literally envision the rest of the year.
Now, ask yourself this: On December 31st, what would need to have happened to be a great year in your personal life, professional life and community life? What would it take to step into your leadership in these areas? To be an active participant in your life, instead of a passive bystander?
So, what would to take to make a shift in one or all of the three areas of your life? And let's be clear, I'm not talking about only big dreams like writing the next american novel. No, I'm talking about digging deep within yourself and asking what would bring truth, joy and love into my life? It doesn't have to be grand – it can be what others would consider simple goals, but nonetheless it brings you peace and harmony. Is it finally planting that garden so you can harvest fresh veggies in the fall? Is it committing to walking every day so your body feels good? Is it waking up an hour earlier so you can mediate and write in your journal? Is it releasing yourself from relationships that don't support your journey?
If you are somewhere where it's safe to do so, close your eyes and visualize you in your life – where are you, what do you smell, what do you see, what do you hear? Find that quiet place, that place of honesty and truth, that place where you can no longer hide from yourself, but instead you feel at home, comforted and with a deep knowing.
Now visualize the following three areas of your life:
Personal – health, family, home
Professional – job, career, training, business
Public Service/Community – help on a campaign, sign up to get out the vote for your local elections, volunteer on a board, donate to a cause, take your kids to volunteers at a homeless shelter
What do you want to feel like, look like, see around you on December 31st of this year?
Instructions for creating a vision board – get the free download here:
Get the FREE Visioning Your Life worksheet