318: The Case for Good Jobs with Zeynep Ton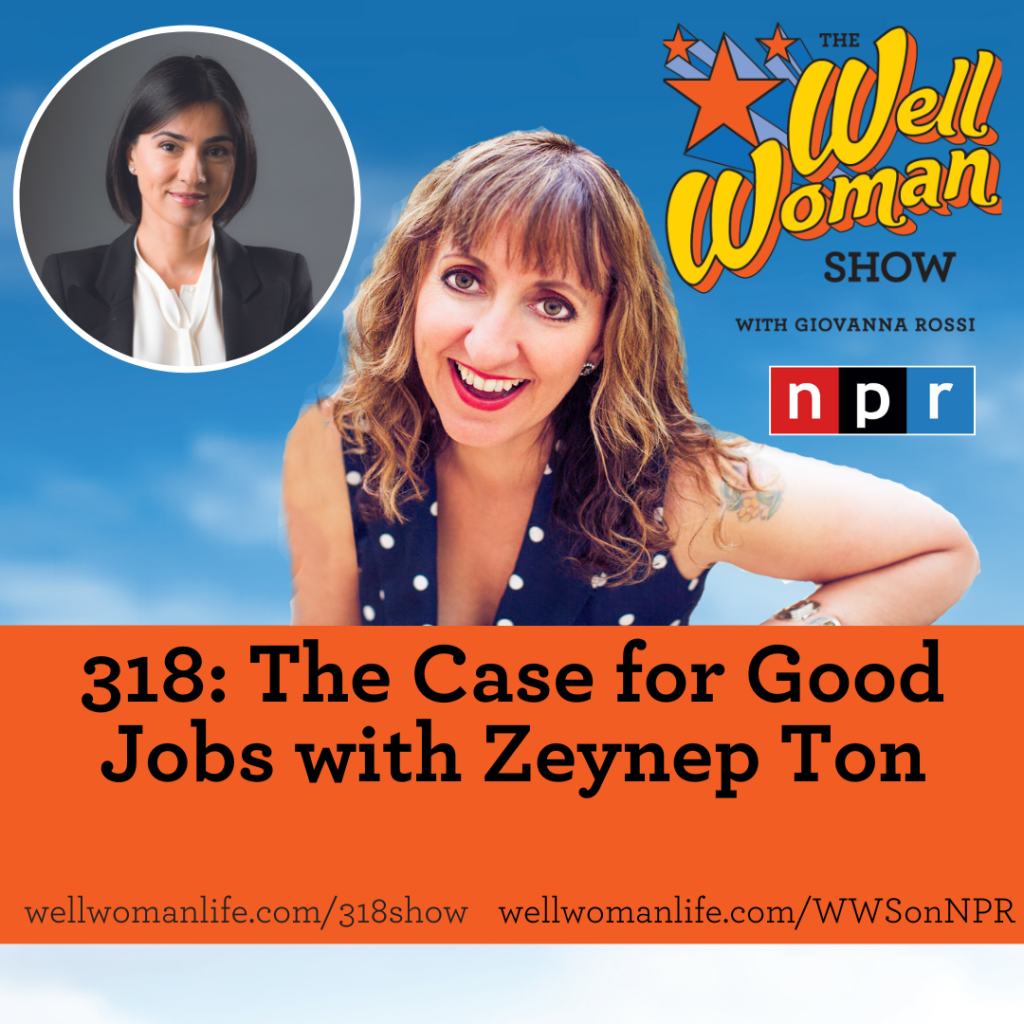 This month on the Well Woman Show, the topic is workplaces that work for women because when women thrive, families thrive. And when families thrive, whole communities thrive. I share my analysis of the future of work, workforce development and economic development ecosystems and interviews Zeynep Ton, a Professor of the Practice at the MIT Sloan School of Management. She is also president of the nonprofit Good Jobs Institute, where she works with companies to improve their operations in a way that satisfies employees, customers, and investors alike. Before joining MIT Sloan, Ton spent seven years on the faculty at Harvard Business School. She is the author of The Good Jobs Strategy: How the Smartest Companies Invest in Employees to Lower Costs and Boost Profits and the new book, The Case for Good Jobs: How Great Companies Bring Dignity, Pay and Meaning to Everyone's Work. A native of Turkey, Ton first came to the US on a volleyball scholarship from Pennsylvania State University. She received her BS in industrial and manufacturing engineering there and her Doctor of Business Administration from the Harvard Business School.
100 Women Albuquerque members gather quarterly and donate $100 each to the same local nonprofit. Grassroots giving circles likes ours allow us to amplify our impact and turn your $100 donation into thousands. All money goes directly to the nonprofit. Learn more at 100WomenABQ.org
The Power Up Conference and Concert, happening on August 26th, will bring together inspiring speakers, industry leaders, and performers to discuss and celebrate women's empowerment. And I'm excited to share that the Well Woman Show is a media partner for this event. This year, the event will be held both in-person and virtually, allowing everyone to participate, no matter where you are. It's an excellent opportunity to network, gain insights, and support the incredible work being done to close the gender gaps. So let's power up and be part of the movement towards gender equality. Remember, change begins with each one of us. And by supporting initiatives like Dr. Adia Gooden's work, Gloria Feldt's Take The Lead, and attending events like the Power Up Conference and Concert, we can create a more equitable and inclusive world for everyone.
Power Up Concert & Conference 2023
Saturday, August 26, 2023
8:00 AM 7:00 PM
UCLA Meyer and Renee Luskin Conference Center Los Angeles, CA
Your ticket includes a fabulous night of fun and music celebrating Women's Equality Day.
Use code: POWERUPWWS
https://www.taketheleadwomen.com/events/https/leadtaketheleadwomencom/event/power-up-conference-2023/e485160
The Well Woman Show is thankful for support from The Well Woman Academy™ at wellwomanlife.com/academy. Join us in the Academy for the community, mindfulness practices, and strategy to live your Well Woman Life.