282 Breadwinners and Breadmakers with Jaime Gloshay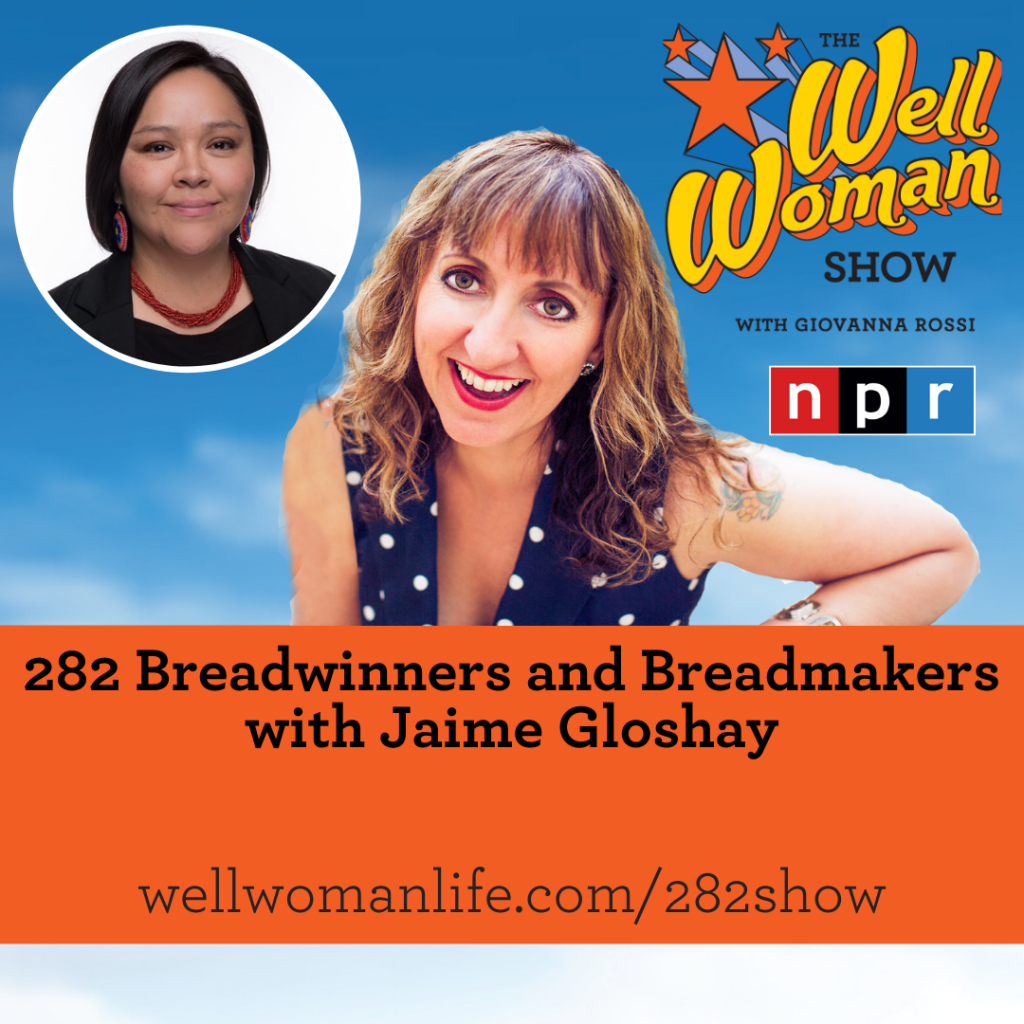 On the Well Woman Show this month we're celebrating the social, economic, cultural, and political achievements of women in recognition of International Women's Day and Women's History Month. Whether deliberate or unconscious, bias makes it difficult for women to move ahead. Knowing that bias exists isn't enough. Action is needed to level the playing field. Today I am interviewing Jaime Gloshay, Co-Director of Native Women Lead where she co-leads key efforts in capital expansion, fundraising, and advocacy while leading program design, international development, and evaluation oversight.
Previously, Jaime led Accion's Native Lending program managing a portfolio of $1M+ and supported the development of Nusenda's Co-Op Capital initiative to pilot relationship-based lending. In 2019, she was appointed to lead the tribal subcommittee for the State of NM Census Complete Count Commission which activated a $11.5M state investment to ensure a 2020 complete count. Jaime holds a BA in Native American Studies & Political Science and an MPA in Public Management from the University of New Mexico. Jaime is a citizen of the Navajo, White Mountain Apache, and Kiowa Nations. She is a mother of three residing in Tiwa Territory. Jaime enjoys hiking, being on her ancestral homelands, and reading to restore.
Race and ethnicity compound the gender pay gap: According to a 2020 analysis by the Institute for Women's Policy Research, the median annual earnings for full-time, year-round work for Native American women was 60% of White non-Hispanic men's. (September 2021, IWPR #C505 Fact Sheet). Are there other data or sources of information you are using that you'd like people to know about? This year's International Women's Day theme is #breakthebias and the campaign explores the daily challenges still faced by women in the workplace and society.
On the show we'll discuss:
How Native Women Lead serves the indigenous populations.
The struggle with the racial and gender pay gap especially in native communities
How we can challenge the bias surrounding native individuals.
The books she recommended:
How We Show Up: Reclaiming Family, Friendship, and Community by Mia Birdsong 
You Are a Badass(r): How to Stop Doubting Your Greatness and Start Living an Awesome Life by Jen Sincero
Dear Sonali, Letters to the Daughter I Never Had by Lynn Toler 
You can find notes from today's show at wellwomanlife.com/282show.
The Well Woman Show is thankful for the support from The Well Woman Academy™ at wellwomanlife.com/academy. Join us in the Academy for community, mindfulness practices and practical support to live your Well Woman Life.