261 Understand Your Brain and Keep it Healthy with Dr. Barbara Koltuska-Haskin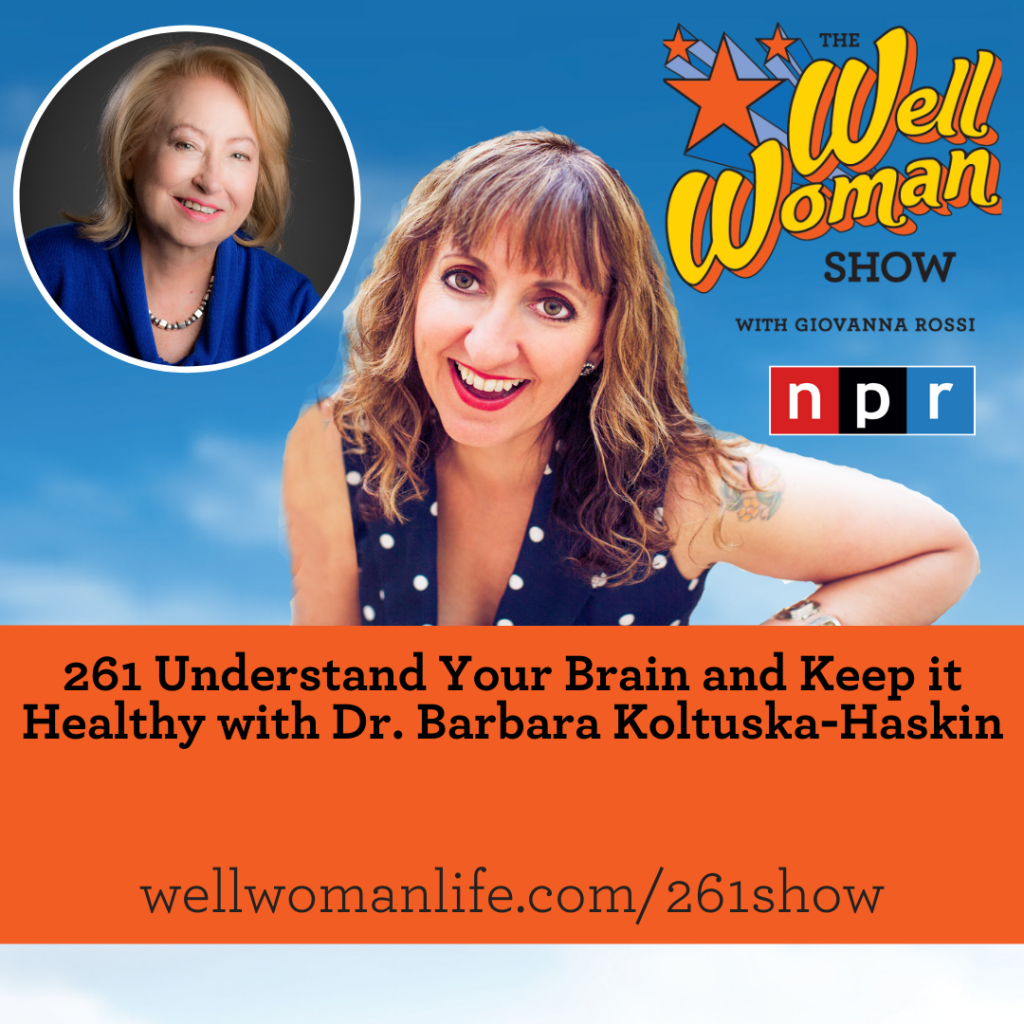 This week on The Well Woman Show, I talk to Dr. Barbara Koltuska-Haskin. Dr Barbara is a Clinical Neuropsychologist in private practice in Albuquerque, New Mexico. She has over thirty years of clinical experience. She also has a research and academic teaching background. In addition to her doctorate in psychology/neuropsychology, she has a Master of Science degree in Clinical Psychology and Bachelor of Education degree (valedictorian). She also completed 450 hours of academic coursework in psychopharmacology sponsored by the Southwestern Institute for the Advancement of Psychotherapy/New Mexico State University Collaborative.
Dr. Koltuska-Haskin was born and raised in Warsaw, Poland. In 1989, she was awarded the AAUW (American Association of University Women) International Fellowship given to one out of thirty international applicants. She spent her fellowship year at UCLA's postdoctoral training program in neuropsychology. She later received her US citizenship as an "alien of exceptional abilities" on the basis of her educational, research and clinical achievements. After her fellowship, she worked for many years as a neuropsychologist at the New Mexico State Hospital in Las Vegas, New Mexico. Because she was the only neuropsychologist for the entire San Miguel and Mora Counties area, she was exposed to many types and stages of brain trauma, chronic mental illness, and addiction. It was challenging work, but an extensive and meaningful experience. She continued working for the state of New Mexico in Albuquerque, and was later a clinical director for a local nonprofit organization. Since 2003, she has been working full-time in her private practice, providing comprehensive and compassionate care for her New Mexico patients. She is the author of the book, How My Brain Works: A Guide to Understanding It Better and Keeping It Healthy
She loves New Mexico for its sunshine, beautiful nature, and hospitality of the people. She always feels that she is "New Mexican in her heart." She loves walking New Mexico's trails, and the climate of the high desert cultivates her passion for organic gardening
We discuss:
– What Nerophyschology is
– How to keep your brain healthy
– Ways to help anxiety & depression right now.
You can find notes from today's show at wellwomanlife.com/261show.
The Well Woman Show is thankful for the support from The Well Woman Academy™ at wellwomanlife.com/academy.