252 The Women We Come From with Guest Host Alicia Ortega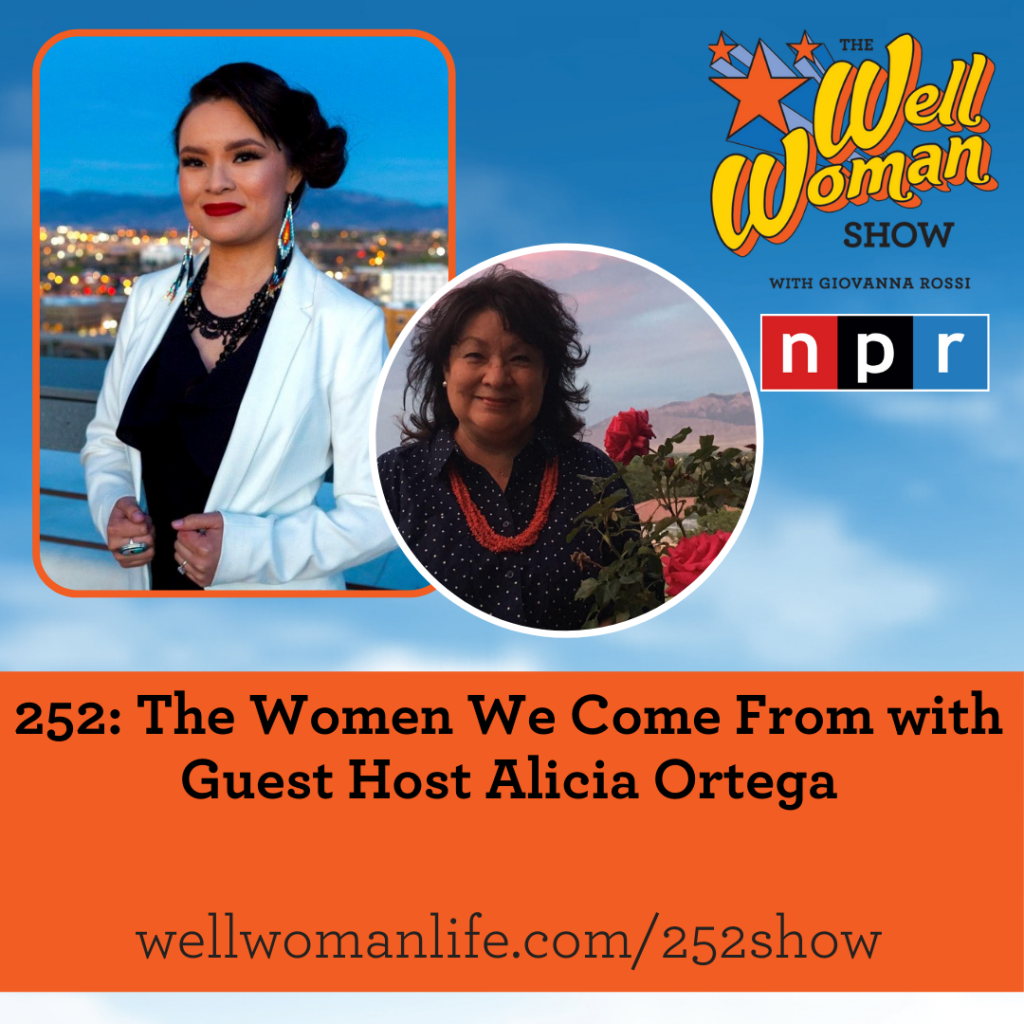 On the Well Woman Show today, guest host Alicia Ortega interviews her mom, Rebecca Ortega, as part of our Women We Come From series celebrating moms during the month of May.
Alicia Ortega is Co-Founder and Co-Director of Native Women Lead, an organization dedicated to growing, supporting, and advocating for Native Women in positions of leadership through business and entrepreneurship with a goal to revolutionize systems and inspire innovation by investing in Native Women in business. Alicia holds a BBA in Organizational Management and two MBA degrees in Marketing and Management of Technology from the University of New Mexico Anderson School of Management. She also brings over a decade of experience working with minority and tribally owned and operated businesses and entities from start-ups to established businesses. As the former Executive Director of the All Pueblo Council of Governors, she has extensive knowledge in working with the 20 Pueblos of New Mexico's tribal leadership on critical issues affecting tribal communities including health, education, state, and federal legislation, natural resources, elder issues, and youth initiatives. She is a recipient of the 2019 New Mexico Distinguished Public Service Award from the New Mexico Governor Michelle Lujan Grisham. Alicia currently serves as a Commissioner on the City of Albuquerque Commission on American Indian and Alaska Native Affairs and the American Indian Science and Engineering Society (AISES) Tribal Nations Advisory Council. She is also an artist and active community member and enjoys volunteering and supporting organizations close to her heart including the American Indian Business Association and the Native Guitars Tour Organization.
She'll be interviewing her mom, Rebecca Ortega who is from the Pueblos of Santa Clara and Pojoaque. She is a wife to her husband of 44 years, Adan Ortega, and mother to her three children, Adam, Mario, Alicia, and Son-in-law Dennis, and grandchildren Neva and Ezra. Rebecca is a graduate of New Mexico Highlands University Class of 1976 where she earned her Bachelor's Degree in Social Work with a minor in Psychology. Working for the All Indian Pueblo Council, she provided career education counseling and workshops to Native American high school students in the 1970s. She also worked as an Academic Advisor at the University of Albuquerque in the 1980s. As a bilingual Tewa woman, she is also very passionate about preserving the Tewa language spoken by the Northern Pueblos of New Mexico and has participated in various efforts through the years that provide Tewa language classes and certifications of Tewa language teachers. She also enjoys working alongside other language preservation organizers including the Tribal Language Consortium through the University of New Mexico.
They discuss:
1 Gaining strength from our ancestors
2 The excitement of having Native Women in positions of power
3 Holding on to our culture and language
All the information shared today can be found at the show notes at wellwomanlife.com/252show
Check out Alicia's previous interview: https://wellwomanlife.com/231show/
You can also continue the conversation in the Well Woman Life community group at wellwomanlife.com/community
The Well Woman Show is thankful for the support from The Well Woman Academy™ at wellwomanlife.com/academy.