235 Women and Power with Elizabeth Lesser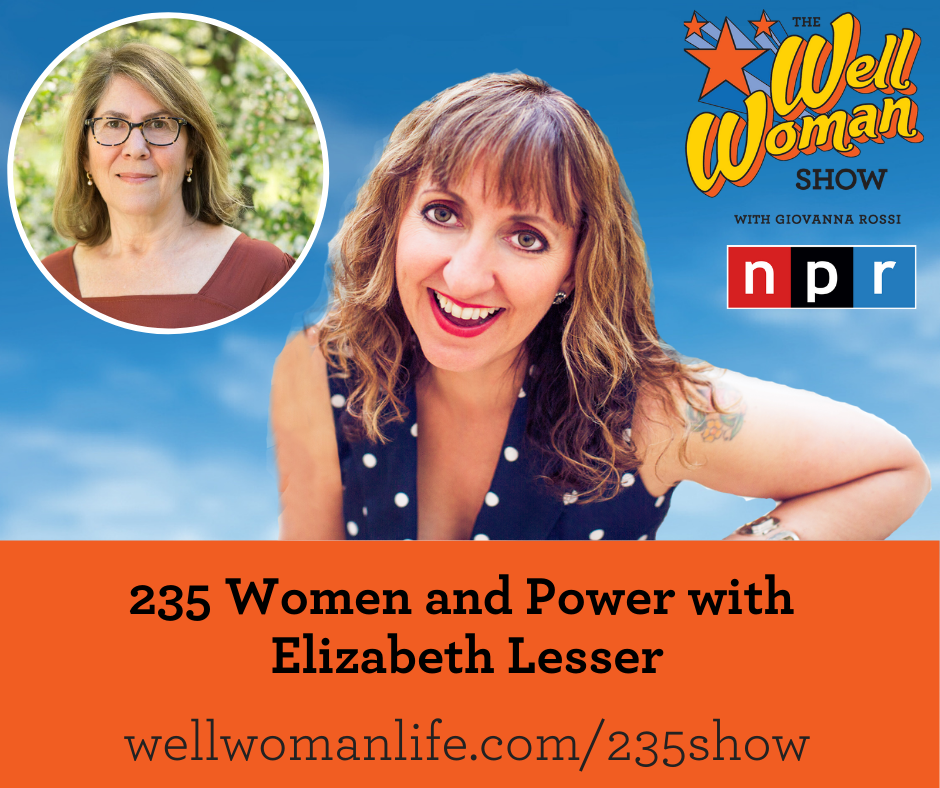 Good morning well woman community… As our country tries to pull through from the last few days, it's more important than ever to hold people accountable for inciting violence and enabling unlawful behavior. It's unAmerican, unethical and unacceptable. Some leaders are distancing themselves now, but it's too little too late. Now is when we need more compassion and collaboration in places of power. The topic for today – women and power – is more relevant and important than ever.
We're going to talk about power all month long. This week, we start with talking to Elizabeth Lesser, the author of several bestselling books, including Cassandra Speaks: When Women are the Storytellers, the Human Story Changes; Broken Open: How Difficult Times Can Help Us Grow and Marrow: Love, Loss & What Matters Most. She is the co-founder of Omega Institute, recognized internationally for its workshops and conferences in wellness, spirituality, creativity, and social change. She has given two popular TED talks, and is one of Oprah Winfrey's Super Soul 100, a collection of a hundred leaders who are using their voices and talent to elevate humanity.
We discuss:
Why the word power make us so uncomfortable,
How culture is built on storytelling
How our emotions are a form of intelligence
and the catch 22 of women's power
You can find notes from today's show at wellwomanlife.com/235show.
The books Elizabeth recommended were:
Caste: The Origins Of Our Discontents By Isabel Wilkerson
https://bookshop.org/books/caste-oprah-s-book-club-the-origins-of-our-discontents-9780593230251/9780593230251
The Lying Life of Adults by Elena Ferrante
https://bookshop.org/books/the-lying-life-of-adults/9781609455910
You can also continue the conversation in the Well Woman Life community group at wellwomanlife.com/community
The Well Woman Show is thankful for the support from The Well Woman Academy™ at wellwomanlife.com/academy.