203 Just Giovanna: A Review of Models for Living Well by Brene Brown, Tara Brach and Byron Katie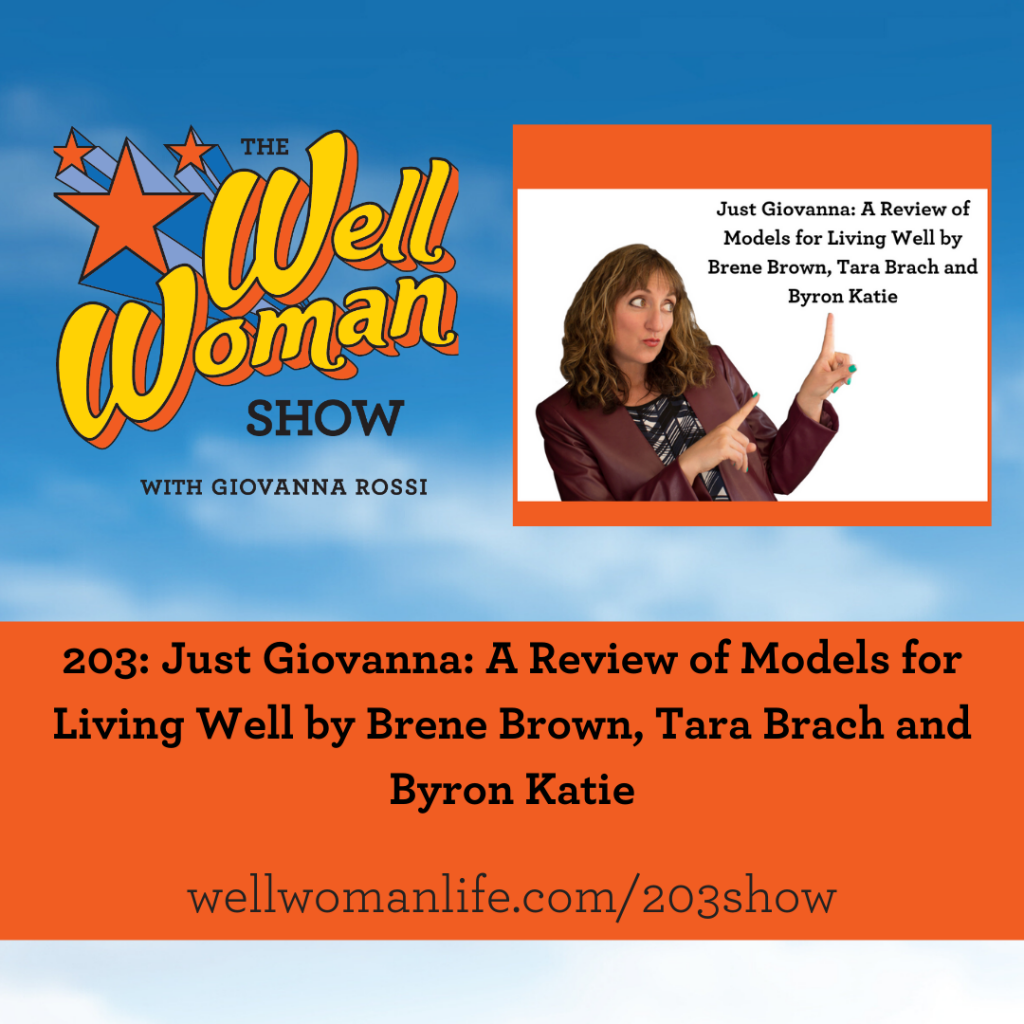 This week Giovanna finds commonalities in three popular models, shows how they compliment the Well Woman Life® Framework (wellwomanlife.com/movement) and shows us that we are all talking about the same things: observe your thoughts, tune into your wisdom, take aligned action and integrate all of this to live in flow.
The first one is Tara Brach, Ph.D. in Clinical Psychology, her teachings blend Western psychology and Eastern spiritual practices, mindful attention to our inner life, and full, compassionate engagement with our world.
The second model is Byron Katie, author of Loving What Is, A Mind At Home With Itself, and the creator of the work. The Work is a simple yet powerful process of inquiry that teaches how to identify and question the thoughts that cause all of our stress. It is a method of inquiry born directly out of Byron Katie's experience. This practice allows you to access the wisdom that always exists within you.
The Work – the four questions:
Is it true?
Can you absolutely know that it's true?
How do you react, what happens, when you believe that thought?
Who or what would you be without that thought?
Byron Katie's Website: thework.com
Giovanna's Interview with Byron Katie. https://wellwomanlife.com/captivate-podcast/075show/
The final model is Brene Brown, research professor at the University of Houston, who spent the past two decades studying courage, vulnerability, shame, and empathy. She's the author of five #1 New York Times bestsellers: The Gifts of Imperfection, Daring Greatly, Rising Strong, Braving the Wilderness, and Dare to Lead.
Rising Strong: living a wholehearted life
Reckoning – awareness
Rumble – Intuition
Revolution – Aligned Action
Brene Brown's Website: https://brenebrown.com/
Also, don't miss it…coming up on the show in a couple of weeks:
Laurie Santos, Professor of Psychology and the Head of Silliman College at Yale University, as well as the host of the podcast THE HAPPINESS LAB. After observing a disturbing level of unhappiness and anxiety among her students, she began teaching a course entitled "Psychology and the Good Life".