140 Your Role in Advocacy with Lucy Martinez Sullivan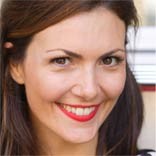 What is your role in advocacy? I ask this question one week before the mid-term elections in the U.S.  Many of us have been reflecting on our role in advocacy, public policy and the electoral process and have already voted or will vote on November 6th. The notion that we are too busy or that we want to remain positive so we can't get involved in advocacy or politics is a self-protective mechanism that doesn't actually work. By amplifying our voice through our actions, we CAN make a difference.
On the show today I will talk to Lucy Sullivan about her role in advocating for women's and mom's rights to breastfeed their babies.
What we talk about on the show today:
Policies that impact the first 1000 days of a baby's life
What you can do to support breastfeeding moms
How to begin to shift the culture around breastfeeding (ie. how do we address the sexualization of women's bodies?)
New dietary guidelines being developed for children under two and pregnant moms
Guest's bio:
Lucy Martinez Sullivan is Executive Director of 1,000 Days, a leading advocacy organization working in the U.S. and around the world to improve maternal and young child nutrition particularly during the critical 1,000 day window of opportunity between a woman's pregnancy and a child's 2nd birthday. Prior to joining 1,000 Days, Lucy served as Executive Director at CCS, a philanthropic advisory firm, working with clients such as the Bill & Melinda Gates Foundation, Action Against Hunger and the UN Foundation. Lucy worked as a marketing and finance executive for Fortune 500 companies such as Merrill Lynch and Loréal. She holds an M.B.A. from the Wharton School of Business at the University of Pennsylvania, and a B.A. with distinction from the University of Florida. She resides in Washington D.C. with her husband and two young daughters.