137: Valerie Jarrett, Former Senior Advisor to President Obama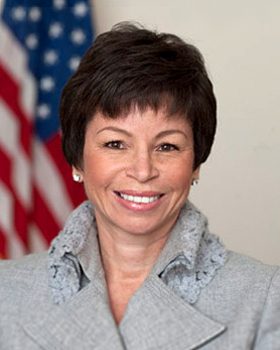 On the show today, I interview Valerie Jarrett, United State Of Women co-chair and former Senior Advisor to President Barack Obama.
The United State of Women is a national organization for any woman who sees that we need a different America for all women to survive and thrive — and wants to work collectively to achieve it. USOW amplifies the work of organizations and individuals at the forefront of the fight for women's equality, and provides tools, access and connections that help women see and step into their power to break down the barriers that hold women back.
On the heels of the 2018 United State of Women Summit, USOW is convening communities across the country and equipping women with the tools they need to keep fighting for gender equity. And we're coming to New Mexico next! Join us at the Galvanize Program in Albuquerque on December 1st for a day of connecting with local allies, learning about the work being done in New Mexico and across the country, and training breakouts based on how you want to make an impact, including: Advocacy and Organizing, Leadership, and Entrepreneurship.
The day begins with a high-energy mainstage session where participants will hear from local and national leaders and includes and attendees will be able to network with organizations and individuals making an impact in different areas of gender equality.
The cost to attend the Galvanize Program is $50 and a scholarship application is available. Attendees are responsible for their own housing and transportation.
What can you do? My list from the Santa Fe New Mexican Op-ed:
Support and fund good journalism eg. news outlets that provides fact checked, unbiased reporting based on multiple sources.
Support media literacy focused on gender issues in schools eg. http://www.medialit.org and https://medialiteracynow.org
Support women in media eg. Women's Media Center, Center for Media Justice, Common Sense Media, Women in Media & news.
Help elect more women to public office and ask women in your life to run for office eg. Emily's List, Emerge America, Women Elect
Use your privilege to see that more women are elected to boards of directors.  Women Corporate Directors, https://www.womenonboards.net
Support and promote girls and women's mentoring programs, especially for careers in technology. eg. Women Who Code, Executive Women's Forum.
Reflect on how you contribute to sexism. Decide from this day forward only to measure girls and women by their accomplishments and not by how they look or their ability to bear children. Eg. Do you judge other women for the way they look? Do you ask or expect girls and women to look a certain way? Or subtly prepare girls for their child bearing role later in life by giving them only dolls instead of building blocks?
Speak up yourself and support other people who speak up and hold others accountable.
Support programs that focus on the "macho paradox" and the movement of men working to promote gender equality and prevent gender violence. eg. http://www.themachoparadox.com/
Do what's right, not what's easy. eg. don't watch movie after movie with your kids (male or female) with no female protagonist. Watch films that pass the Bechdel Test – films with women talking to other women about something other than men. See http://bechdeltest.com; speak up when you see someone behaving inappropriately.PLUS…..
VOTE! Early voting is open
Attend Galvanize NM on December 1st! https://www.theunitedstateofwomen.org/galvanizenewmexico/
You can also continue the conversation in the Well Woman life community group at wellwomanlife.com/facebook.
The Well woman show is thankful for support from Natural Awakenings Magazine in New Mexico and High Desert Yoga in Albuquerque.