066 How Your Location Can Be the Foundation of Your Success with Sydney Alfonso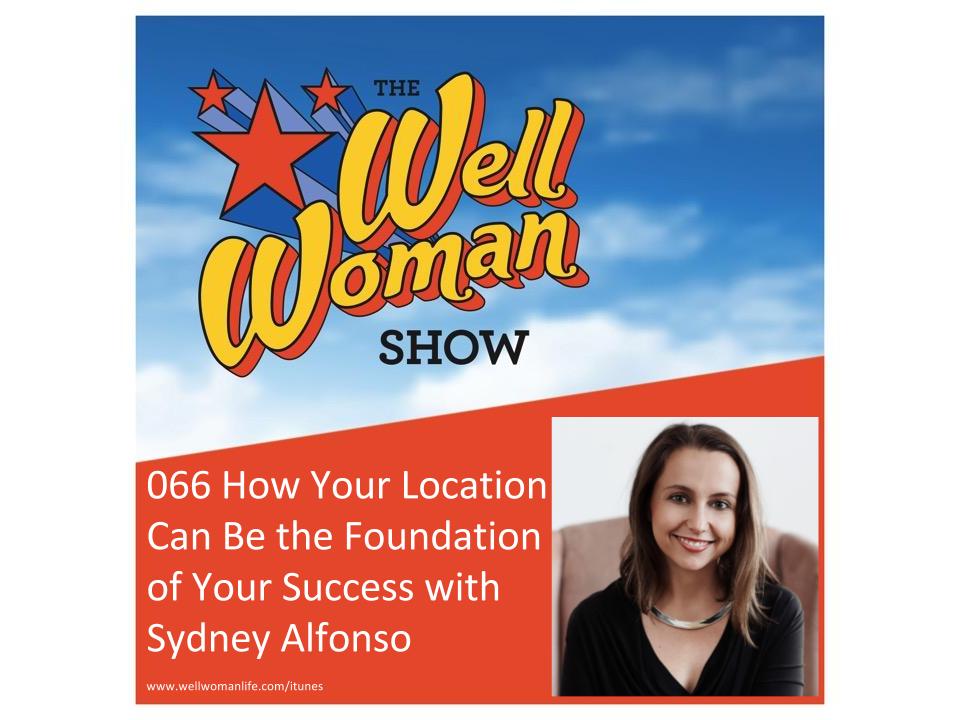 Over the next three episodes, I'm going to speak with three women who will help shed some light on a recent study naming Albuquerque, New Mexico the number one city in the country to close the gender gap in pay, homeownership and education.
The recent study by Trulia showed that in Albuquerque, the pay gap between men and women decreased by 25% from 2008 to 2015. Meanwhile, women are slightly more likely than men to have 4 years of college or more and to be homeowners in the city. And Albuquerque's city council just passed new legislation giving companies that want to work with the city an incentive if its pay gap is less than seven percent.
As women, we often juggle many aspects of our lives and on the Well Woman Show we look at women's live through three lenses – first, personal, like family or health second, career building and entrepreneurship and third, community, such as sitting on boards or doing volunteer work. So I'm interested in how these three aspects of our lives have impacted the success of women leaders and entrepreneurs in Albuquerque and specifically how particular resources and networking opportunities have impacted the success of women entrepreneurs here.
Get the FREE Women in Business Resource List!
My guest today is Sydney Alfonso, founder and CEO of Etkie, a New Mexico business that works with Native American artists to produce high-end jewelry inspired by traditional indigenous textiles. Sydney says describes it as "a jewelry company creating luxury products and dignified jobs in underemployed communities."
What you'll learn in this episode:
How Sydney applied what she learned in a women's co-op in Turkey to her business in New Mexico
How Sydney runs her business with contract workers who earn a bonus based on how the business performs
How Sydney develops her jewelry starting with an inspiration board
What makes a great mentor relationship (hint: it includes accountability)
How being curious can help you connect more and develop the relationships you need
Why celebrating what you've accomplished is important in taking the next step
How to balance the "hustle" with setting boundaries
How to listen to someone vent without judgement
Get the FREE Women in Business Resource List!
More about Sydney, CEO of Etkie
The word Etkie translates to mean "impact" in Turkish. Sydney started working with a women's cooperative in Istanbul assisting artisans in creating a profitable platform for their handmade jewelry. The intent was to elevate their profit from meager sales to a reliable living wage. Returning to New Mexico, she launched Etkie with the same passion to create an ethical for- profit company that provides Native American beaders a platform to create contemporary designs using the artistic traditions passed down from generations. Her team of artists earn living wages, impacting the choices they can make for themselves and their families. The artists live on the Navajo Nation where the roads to work are long and the jobs are nonexistent. Many of them elect to work from home on the land and in the community where their roots are deeply planted. To learn more about the artisans, visit the Meet The Team page.
Sydney's talent is merchandising and accessing high-end markets and her artisan's skill set is crafting incredible heirloom quality products. By working together, she has created a business that benefits everyone involved in the process. In the spirit of true collaboration, her unique approach to traditional craftsmanship and modern design has developed into a global brand. ETKIE is sold in over 90+ retailers in seven countries and she has done custom collections for some of the world's best museums.
Links:
The Circular Board Summit: A collaborative accelerator for women entrepreneurs
Marketing book: The Blue Ocean Strategy