061 How to Understand Your Emotions Through Your Body with Bea Doyle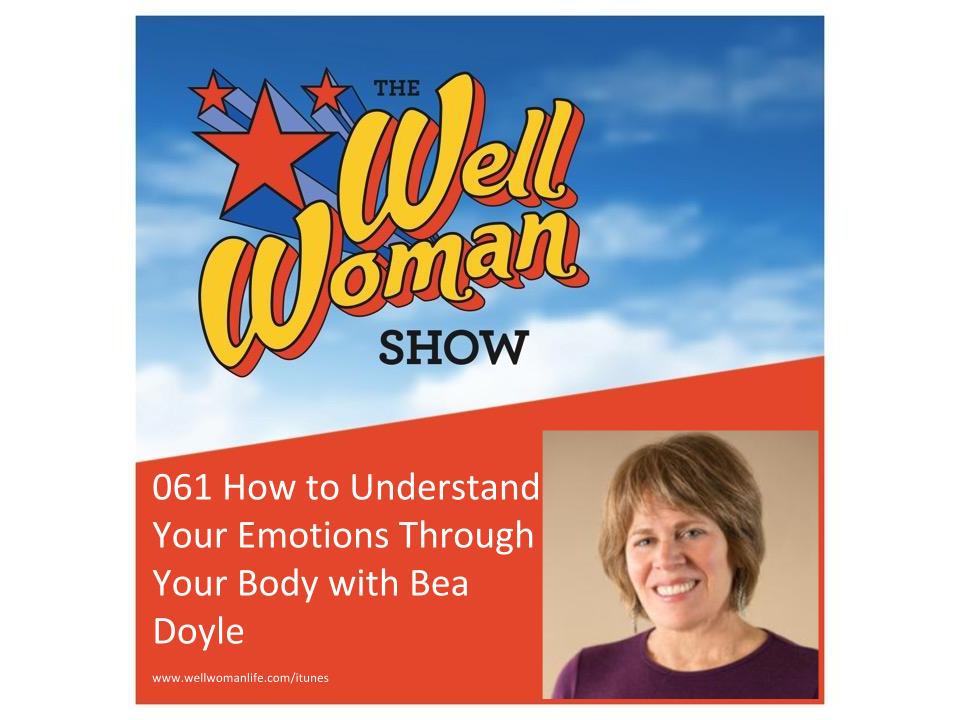 When we feel physical pain in our bodies, our first instinct is to do something about it. For some of us that means taking an pain relieved, for other of us it means changing our exercise routine to prevent further damage. While both of these options will handle the problem, at least temporarily, perhaps there is a deeper way to treat the issue and prevent further pain. For Functional Yoga Educator and Yoga Therapist Bea Doyle, dealing with the body is only half of the equation. Through mind-body connection, she explains, our emotional issues and unresolved problems are stored in the body and expressed through physical pain. It is important to both treat the emotional in order to heal the physical, as well as to address the physical to treat the emotional.
My guest on this episode is Bea Doyle. Bea is a Functional Yoga Educator and Yoga Therapist and the creator of Dynamic Yoga Therapeutics™. She holds certifications in Anusara Yoga, Yoga Tune Up Fitness Therapy and with the International Association of Yoga Therapists. She also has a masters in Mathematics. Bea began practicing yoga in the 80s as she began her career as a math teacher. After years of finding community, purpose, and connection in yoga, she decided to open Bhava Yoga Studio in Albuquerque, NM. Currently Bea sees clients privately in Santa Fe, NM and has created a yoga therapy curriculum, Body of Bliss. In this episode Bea and I talk about her journey to yoga and business ownership, how you can use yoga therapy to connect to your emotions through your body, and how she is able to find balance in all that she does.
Get my FREE handout "5 Yoga Poses for Back Health"!
What You'll Discover in This Episode!
How Bea uses yoga to connect with body, emotion, and find balance

How you can connect with your body to address emotional issues

Bea's tips for using yoga therapy to overcome back pain
More About Bea
Get my FREE handout "5 Yoga Poses for Back Health"!
As a Functional Yoga Educator and Yoga Therapist, Bea views the "physical body as a gateway into our inner landscape." Her role is to address the physical and encourage a mind-body connection so that clients can understand and address the internal factors that may be leading to their physical pain. She explains that there is a "union between our feelings, emotions, spiritual sense of self and how we're feeling in our body," and by becoming more in-tune with the ways that emotions are expressed in our bodies, we can deal with both physical and emotional issues.
Clients most often come to Bea when they are experiencing pain or limitations in mobility. She instructs them about ways that they can improve movement and learn to use their bodies in ways that they can avoid creating pain or damage. She uses visualization and body mapping to help clients to be better connected to their body. Instructing clients to "close their eyes and feel the breath as it moves through their bodies," Bea illuminates the innate conduit for the mind-body experience.
Prior to pursuing a path in yoga, Bea was a math teacher. Her interest in yoga took root following college, and she has always incorporated it into her life, even creating yoga classes in the schools where she taught math. She finally decided to pursue a career in yoga, opening Bhava Yoga Studio. Today Bea teaches yoga therapy in Santa Fe and works each day to incorporate yoga mindfulness into her life.
Check Out the Links Mentioned in This Episode:
Alignment Matters by Katy Bowman