053 How to Use Collaboration to Get Ahead with Pamelya Herndon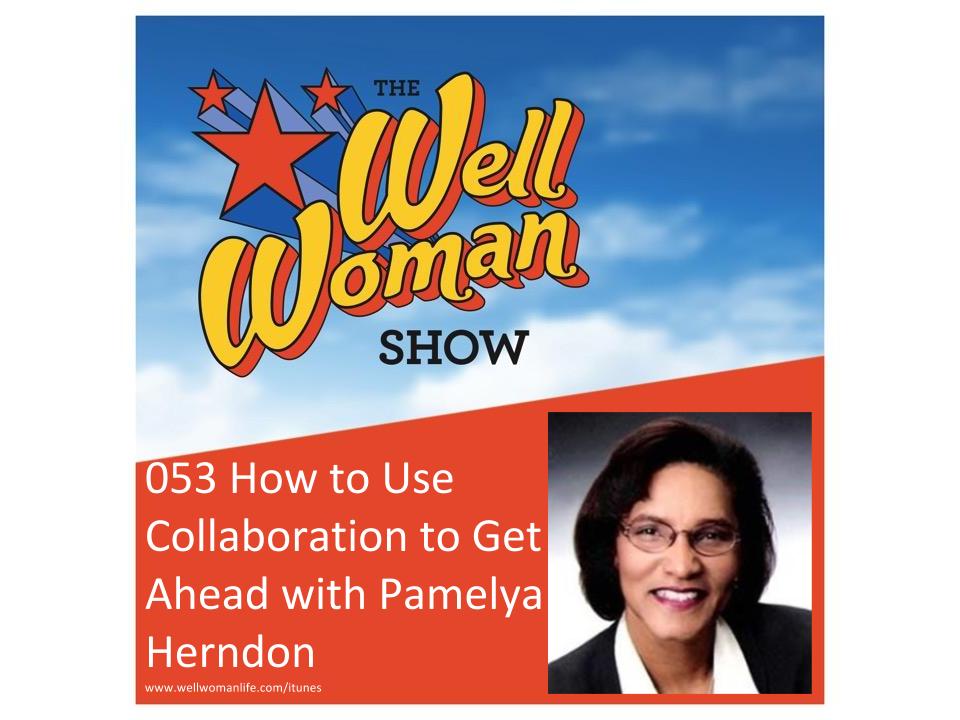 When we think of success, we often visualize ourselves at the top. We've made it, we are the best at what we do, there is no one better than us. Realistically, though, no one makes it to the top without the help and mentorship of others. According to Southwest Women's Law Center Director Pamelya Herndon, we can truly feel a sense of success if we flip that notion of 'being the best' on its head. Instead, she suggests, success comes with the more people you can bring along with you.
In today's episode I talk with Pamelya Herndon. Pamelya is the Executive Director of the Southwest Women's Law Center, where she fights to eliminate gender bias, discrimination and harassment; lift women and their families out of poverty; and ensure that all women have full control over their reproductive lives through access to comprehensive reproductive health services and information. Pamelya is a long time member of the National Council of Negro Women and sits as a member of the Board of Directors of Emerge New Mexico. She has received a "Community Service Award" from the New Mexico Office of African American Affairs, was named as the 2012 "Public Lawyer of the Year" and the 2013 "Outstanding Lawyer" by the Albuquerque Bar Association and, in 2015, was named as a "Woman of Influence" by New Mexico Business First and "Outstanding Business and Professional Woman" by Iota Phi Lambda Sorority. In this episode Pamelya and I talk about the work she does and why it is so important in America, her visit to the White House, what she does to make a difference in women's lives, and why it is so important to collaborate for greater outcomes.
What You'll Discover in This Episode!
What you can do to to advance women's rights

How you can foster a feedback loop to ensure that you are making an impact on others' lives and they are growing and developing as well

How you can reach out to those that work in the same areas as you so that you can both get farther ahead

How to change your perception of success to be more inclusive and farther reaching
More About Pamelya
At the root of what Pamelya does is collaboration. She works with women (and men) to help women to become empowered and reach financial equality so that they can live their best lives. She explains that she does this by focusing on "trying to increase women's economic security while at the same time trying to reduce child poverty." These two issues are intimately connected, as women head almost half of households in New Mexico, and still are not receiving equal pay. "Women are heading these households, they're not paid equally; of course women are in poverty." One of the most impactful way that Pamelya is able to help women is through education. Women often find themselves in positions where they are paid less for equal work, or that all childcare responsibilities fall on them, and Pamelya wants women to know that this does not need to be the only way. "We try to instill in women: the value you bring is worth something, its worth being paid for."
For Pamelya, collaboration doesn't just mean working with the women that she serves. To truly get ahead, it is essential to "recognize that you must collaborate; you cant do everything you need to do alone." In this way, you know that you are making an impact on a larger group of people as it is not just you working alone. Also, your partners are able to use their unique ways of thinking to find new and different solutions and continue the network of connections. This is important for making a difference in the future, as well. Pamelya takes pride in the fact that she can "pick up a phone and people are willing to work with us." Because she has a reputation for doing important work and working well with others, she has come to be trusted as a reliable resource with whom people want to work and for whom they want to help.
Check Out the Links Mentioned in This Episode