052 How to Heal Yourself From Within with Christy Dafter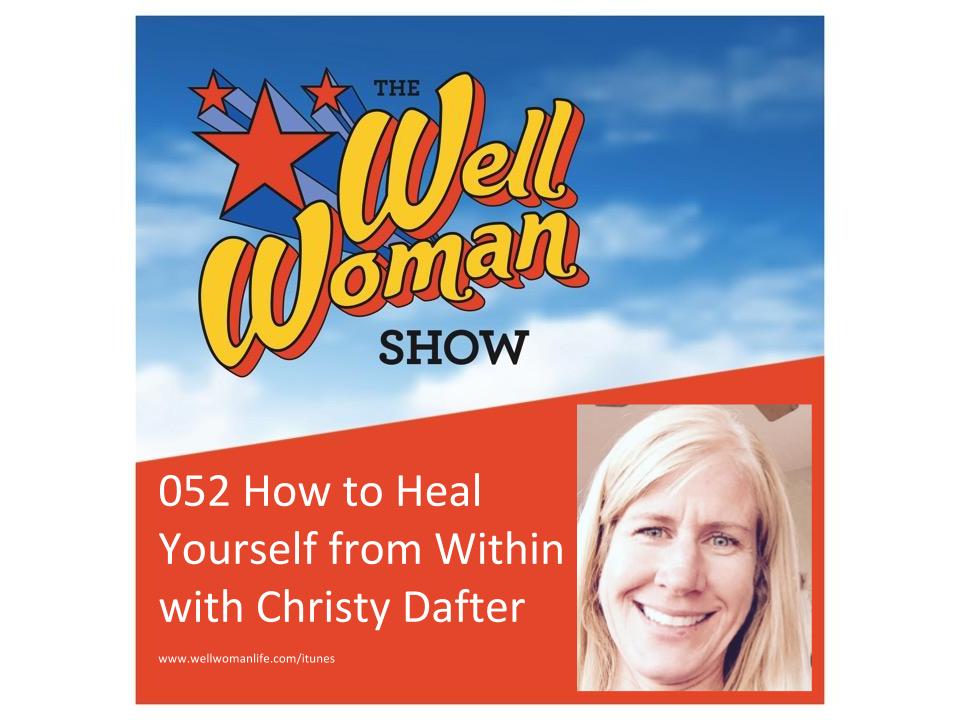 The way that the world functions these days, it often feels that finding a quick fix for our problems is the easiest way to handle them. Tired? Have a cup of coffee? Can't sleep? Take some sleep medication. In our defense, it is difficult to find the time to truly sit down and examine the underlying issues that are leading to these symptoms. For Blood Morphologist Christy Dafter, the best way to treat our health and emotional concerns is not to conclude that we are innately flawed, but simply to acknowledge that we are not providing our bodies with the proper fuel that they need to function. "You wouldn't put coolaid in your car, right?" she posits, and suggests the same can be said of your body and mind. If we aren't providing ourselves with the proper nutrition and emotional and mental support, of course we will have problems.
Get my FREE "Complete Health Package"!
In this episode I speak with Christy Dafter. Christy is a former 5th grade elementary school teacher and Physical Education coach. She taught with Albuquerque Public Schools for 15 years. In June of 2012, she received her certification as a Blood Morphologist, completing over 40 hrs of hands on training under master herbalist Susan Nichols. In the fall of 2014, she earned her clinical herbalist certification from UNM Continuing Ed, studying under Master herbalist, Sonia Mossaco. Currently, Christy is in school training to become a Doctor of Naturopathy. Today Christy and I talk about the importance of recognizing that your choices are the most importance factors in your healthcare, treating symptoms doesn't deal with the core imbalances causing your health issues, and that your body is meant to heal itself, you just need to provide it with the proper fuel to do so.
What You'll Discover in This Episode!
How you can have more energy and better focus everyday

How you can take steps to eliminate unhealthy parts of your diet, such as sugar, without totally changing your lifestyle

How to use Christy's tips for physical health to heal and care for your emotional and mental wellbeing
Get my FREE "Complete Health Package"!
More About Christy
Christy was not always health conscious. Like make of us, she came to care about her health the hard way; by placing it at the bottom of her priorities. As a teacher, she was depressed and "tired all the time- I thought it was my job." She had bad eating habits, but she "was a runner, so she thought she could eat whatever she wanted." By blaming her job and justifying her eating habits with exercise, she could avoid accountability in her health. Finally, Christy met with a Master Herbalist and had her blood examined. It was then that she was able to see and accept that "what I was doing to myself was causing all of my problems."
Christy has since taken on healthcare as her main passion. She has learned to heal her own body, and helps others to do the same. Her own journey and painful past inspires her. She explains, "I remember when I was suffering and I don't want to forget that; I don't want to lose my compassion and passion for others." One of the biggest takeaways from Christy's journey is the impact that the mind-body connection has had on her. While she was depressed and tired all of the time before her transformation, now she is happy and energetic. She admits, "I was physically so tired all the time, I couldn't deal with my emotions." In this way, Christy explains that one of the first steps to healing emotional and mental issues is by taking responsibility to heal your body.
Check Out the Links Mentioned in This Episode!
Prescription for Nutritional Healing by Phyllis A. Balch