045 How to Create a Stronger Team with Enlightened Leadership with Karin Lubin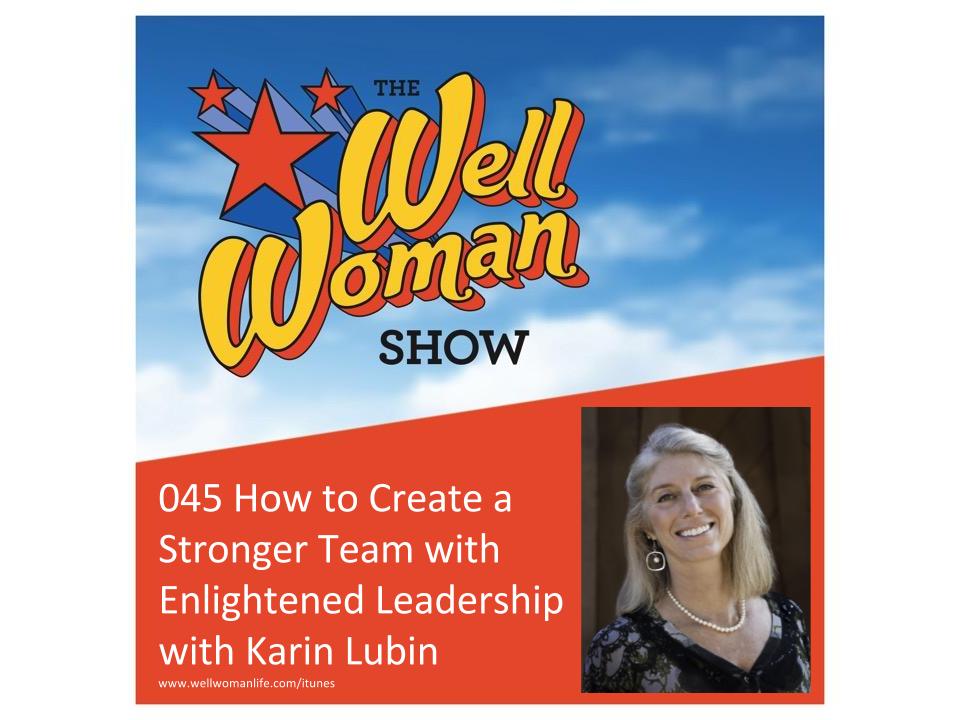 When we work in teams we often propel ourselves forward with end goal in mind. Perhaps there are some kinks in the team dynamic, or maybe there is a smooth team structure, but generally speaking the final product is where our energy is placed, not on developing a strong team. For Enlightened Teams and Leadership trainer Karin Lubin, perhaps we ought to switch our thinking. According to her, if we focus on creating a deeply connected and communicative team, then the process bringing us to the end product, as well as the end product itself, will be stronger.
Karin is a professional trainer, facilitator, organizational development consultant/coach and speaker. She is General Manager of Enlightened Alliances is a Passion Test Master Trainer, and is co-Founder of Quantum Leap, a consulting business she started with her husband. Karin works primarily with Enlightened Teams and Leadership model. The Enlightened Team formula strategically enhances greater connection with others, supports healthy self-care habits, and brings out your team's natural brilliance. Prior to her work with Enlightened Teams, Karin worked in public education for 20 + years as K-8 teacher and administrator for K-8 grades in California. In this episode, Karin and I talk about how to make each member of a team feel satisfied and work better together, how to feel more purposeful in your work, and how to recognize when it's time to make a change.
Get my FREE "Enlightened Team System" handout!
What You'll Discover In This Episode
The importance of developing Enlightened Teams and how you can create them

How to bring elements of the Enlightened Teams and Leadership model into your teams

Karin's seven step system for being connected to your emotional state and working through difficult feelings
Get my FREE "Enlightened Team System" handout!
More About Karin
Prior to working with Enlightened Alliances, Karin worked in education as a teach, administrator, Vice Principle and Principle. During this time Karin came to see her strength in connecting others and connecting with others. She also, eventually, came to see that she did not want to be working in education. "I had bought into the idea that I had to move on this career path forever. I felt responsible, I didn't know how to get off of the track." Twenty years into her education career, Karin discovered Janet Atwood's Passion Test, and she realized that she could change her career path, and that she had the power to make that shift. Karin quit her job, did some traveling, and returned home to pursue her true calling: the developing and management of teams.
When Karin returned from her travels, and she her husband began Quantum Leap Consulting & Coaching, a consulting group that helps individuals to discover and sustain their passions. Since starting Quantum Leap, Karin has focused in on working with groups with the Enlightened Teams and Leadership model. With the Enlightened Team model, there is more of an emphasis on working well together, making sure everyone in the group feels purposeful and happy, and working to everyones' strengths. "When people feel heard in whatever their strengths are," she says, "the team becomes more expansive and does better."
While creating greater employee satisfaction is a good thing, Karin explains that creating Enlightened Teams does more than this. "If someone is not happy, it impacts the group. If you have people who are happy, it makes a huge difference [on the outcome]." If we are working better together, we also create greater, stronger, and more solid outcomes.
Check Out The Links Mentioned In This Episode!
Quantum Leap Coaching & Consulting