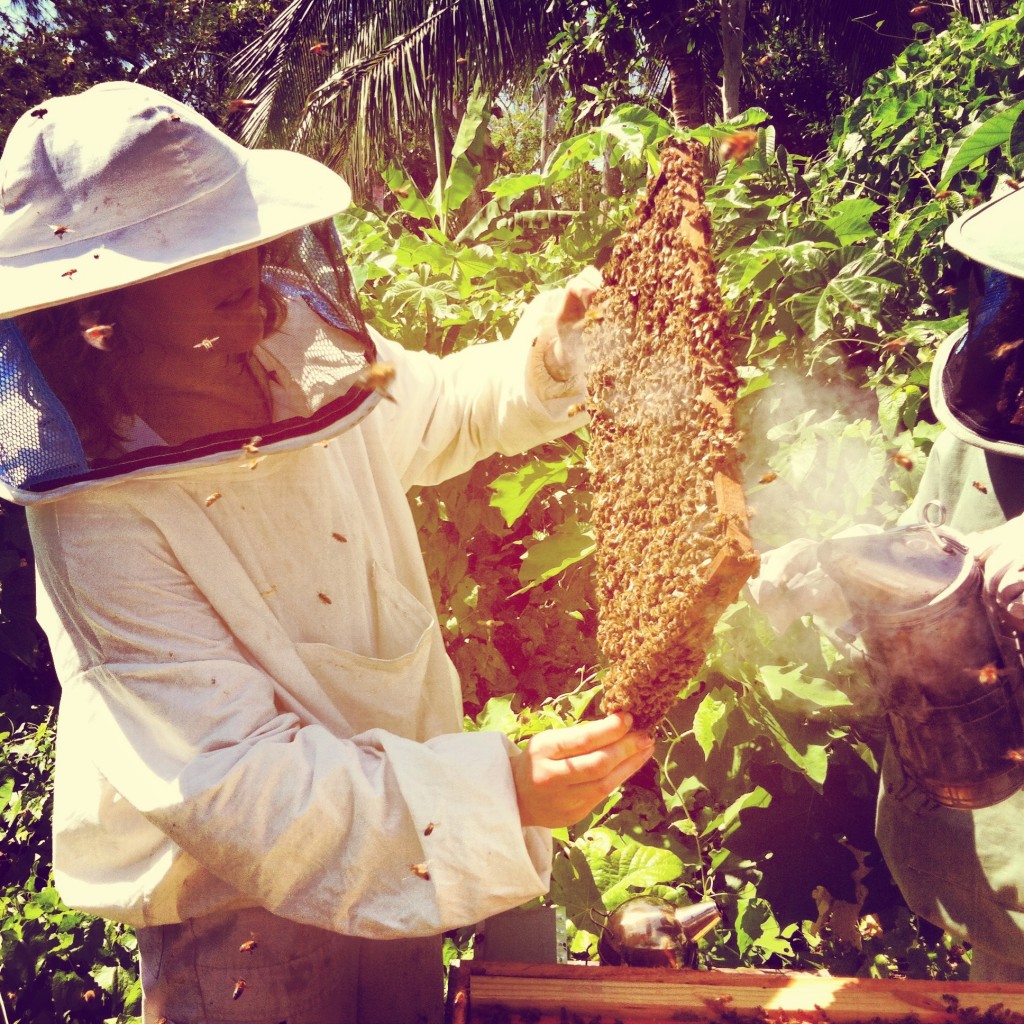 Podcast: Play in new window | Download
Have you ever wished that you could dedicate more time to your hobbies? Or even, have you fantasized about leaving your day job to fully dedicate yourself to your hobby? For many of us, that dream lingers in our mind but our fears hold us back from actually taking the leap. For beekeeper Jessie Brown, leaving her job provided the space she needed to discover an interest in beekeeping. That interest has blossomed into a full-fledged business, Brown's Downtown Bees, that provides her with the flexibility to care for her business while raising two children.
Jessie has been keeping bees for 10 years and has a small business, Brown's Downtown Bees. She is the President of the NM Beekeepers Association and currently serves on the Boards of the Western Apicultural Society and the American Beekeeping Federation. Today I talk with Jessie about her decision to leave her career in the film industry to start a family and begin her beekeeping business, how she balances life as a mother and business-owner, and challenges she has faced as a woman in a predominantly male field.
Give me access to Jessie's Beekeeping Basics!
What You'll Discover in This Episode
Tips for beekeeping in your neighborhood

How Jessie was able to set herself apart and succeed in a male dominated field, where her skills and knowledge were questioned or doubted

Finding the motivation to turn your hobby into a full-fledged career
Give me access to Jessie's Beekeeping Basics!
More About Jessie
Jessie's initial motivation for leaving her work was not to pursue beekeeping, and she actually loved her job. Before beekeeping Jessie worked as a makeup artist on film sets; gratifying but wearing work. Jessie observed the lifestyles of those in her field, and she recognized that her plans for motherhood simply did not match up with the lifestyle that the film industry demanded. With difficulty, Jessie decided to leave the film world to nurture her plans of motherhood. Though she wasn't sure what she would be doing career-wise at that point, she did know that she "had to make an immediate change if I wanted to become a parent." She knew that she she wanted to create a career that would allow her the flexibility to raise her children.
An opportunity came along when she attended a horticulture course and was fascinated by the beekeeping component of the class. Today, Jessie finds beekeeping to be a perfect counter to motherhood. Beekeeping allows her to work from home. She can watch her children, while still finding escape in her work. She explains that working with bees is soothing and healing; "you have to force yourself to calm down when you're in a hive."
This lifestyle never would have came about if Jessie hadn't taken a risk to leave her job. Just as importantly, it wouldn't have happened if she hadn't been determined to create a career with the sort of flexibility that she was desiring.
Jessie's sense of happiness comes from her personal view on success. She explains that she "feels happiness when I lay down the groundwork for something that can grow." This means that she is able to see community success as personal success, rather than seeking to get ahead of the rest. Similarly, her escape is volunteer work with beekeeping nonprofits. By viewing selflessness as selfishness, Jessie is constantly finding joy in her work, volunteering, and family.
Check Out the Links Mentioned in This Episode!