Posts Tagged 'transformational'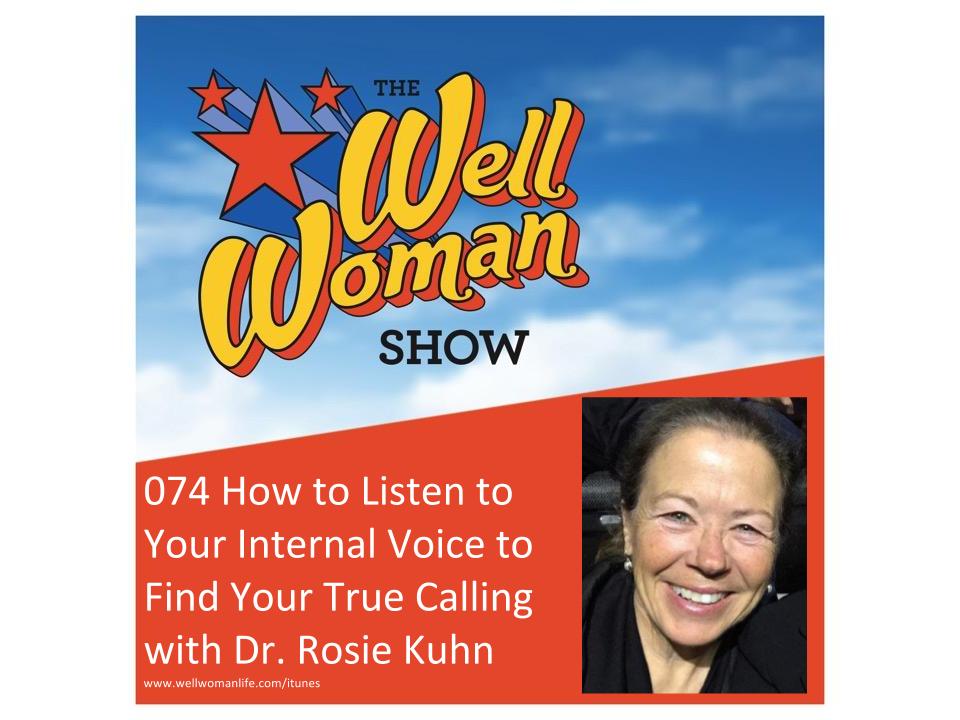 Podcast: Play in new window | Download
Get Dr. Rosie Kuhn's FREE eBook!
When we're on the cusp of a transformation, we are often very uncomfortable. We're not content with our current lifestyle, but we don't know exactly what to do to find that happiness. Our ideas about our identity and purpose are about to shift, and this can be a very scary prospect. The one thing worse than feeling stagnant is change: we want things to remain the same, because we don't want to throw away all of our hard work. Who will we be without our achievements? According to Dr. Rosie Kuhn, when it's time to make that change, "there's a deconstruction process that you go through." And the way to get through that deconstruction process is to shut off the external, and look within to find your true calling.
In this episode I speak with Dr. Rosie Kuhn, preeminent thought leader, coach and leadership facilitator. Dr. Rosie is a speaker, author, and facilitator. As a Transformational Life and Business Coach, she encourages her clients to think beyond their limited sense of reality. Her books, blogs, videos and podcasts engage and inspire her audience to question the source of their decision making. Dr. Rosie is considered to be a preeminent thought leader in the field of Transformation and Transformational Coaching. She is the author of many books, including Self-Empowerment 101, and newly published Cultivating Spirituality in Children. As the founder of The Paradigm Shifts Coaching Group, Dr. Rosie specializes in empowering individuals to fearlessly embrace transformation. She has worked in the field of transformation for over 20 years. In this episode, Dr. Rosie and I talk about how you can tell when it's time to make a shift in your life, how to move away from fear-based decision making and lead with fierce love, and why it's so important to embrace, rather than resist, transformation.
Get Dr. Rosie Kuhn's FREE eBook!
What You'll Discover in This Episode
How Dr. Rosie inspires her clients to embrace change
Why, if you want to be a successful leader, you need to be willing to experience transformations
How you can begin your process of transformation
More About Dr. Rosie
Before founding the Transformational Coaching Training at the Institute of Transpersonal Psychology, Dr. Rosie working for 30 years as a life coach, marriage and family therapist, spiritual guide. She began her career as a clinical therapist for addiction recovery programs, and founded the The Paradigm Shifts Coaching Group in 1999.
Dr. Rosie helps people to find the right questions to ask themselves to begin the process of transformation.  "Most people are not asking the right questions," she explains, adding that then the "source of the insecurity is never revealed and expressed." Instead, people will often live in cycles of anxiety, knowing that the way they are leading their lives is no longer fulfilling, but not having the tools or direction to make whatever change may be needed.
The most difficult part about making a life change is the vulnerability that is required. As a coach, she says that it is her job to "not support you in avoiding that vulnerability." Instead, she helps her clients to answer the question: "how do you move forward even though you feel vulnerable, even though its messy?"
This work is essential for anyone who seeks to lead others or wants to find success. "To be truly a leader in the world means you have to face the stuff that's messy," Dr. Rosie explains, "because you're going to lead people through messiness."
Check Out the Links Mentioned in This Episode!
The Paradigm Shifts Coaching Group with Dr. Rosie Kuhn
A Course in Miracles by the Foundation for Inner Peace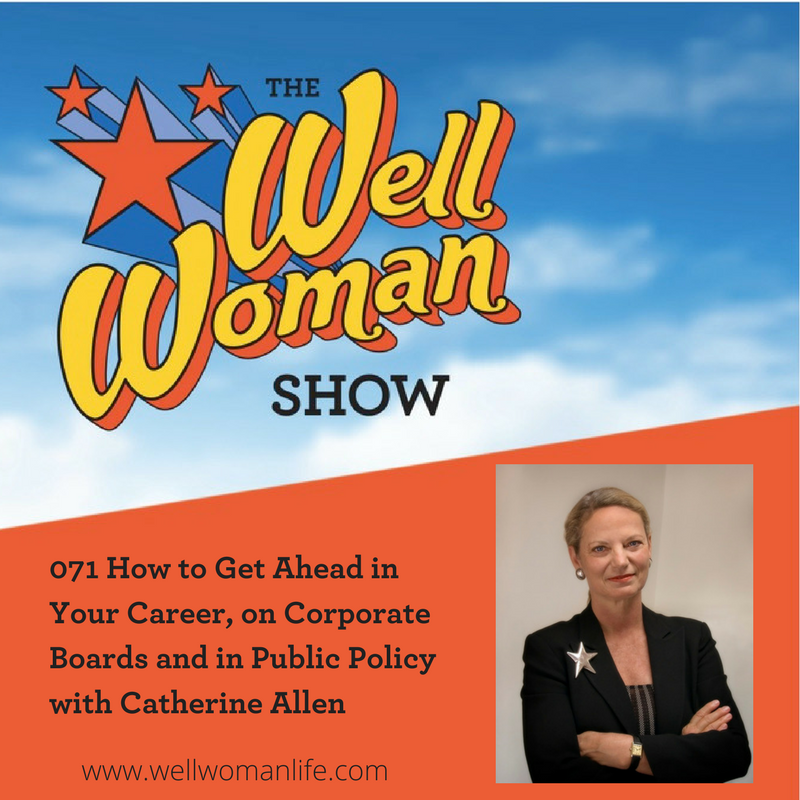 Podcast: Play in new window | Download
Today's topic is How to Get Ahead in Your Career, on Corporate Boards and in Public Policy and hopefully by the end of the show you'll be inspired to decide what you want, put your intentions out to the world, and take that calculated risk you've been considering,
My guest today is Catherine Allen. For more than 30 years, Catherine Allen has been a leader in business innovation, technology strategy, and financial services. Today, Catherine is Chairman and CEO of The Santa Fe Group, a strategic advisory services company based in Santa Fe, NM. The Santa Fe Group specializes in briefings to C-level executives and boards of directors at financial institutions and other critical infrastructure companies in the areas of cybersecurity, emerging technologies, and risk management.
Get Catherine Allen's FREE Circle of Trust Workhseet!
What You'll Learn in this Episode:
the three areas to focus on supporting more women in leadership
differences between millenial, generation x and boomers when it comes to women in business
how many women on a board you need to make a difference
what impacts economic performance in business
how to get on a corporate board and what expertise you need
what Catherine Allen worked with Julia Cameron on, author of The Artist's Way
where she gets a lot of her writing done
how to compartmentalize in order to be in the moment in each part of your life
Get Catherine Allen's FREE Circle of Trust Workhseet!
Links:
Women's International Study Center
Equal Credit Act
The Santa Fe Group
Reboot Your Life
The Artist's Way at Work
Mississippi Blood
Warnings By Richard Clark
Design Your Life by Cornell Spears Lopez
Podcast: Play in new window | Download
We all know what it feels like when a plan doesn't go as expected. Perhaps you've had a goal in mind and you did everything right to achieve it. You planned, prepared, and became convinced that you would, and deserved to, reach your goal. And then, to your shock, the outcome is not what you had anticipated. You don't reach your goal, and suddenly your world is turned upside down. This experience can be so very difficult because it leads you to question what you thought was true, and can even cause you to question your understanding of your own identity. If I followed the rules and did everything right and I still did not reach my goal, then are the rules flawed? According to Birthing From Within author Pam England, we can find peace from this self-destructive way of thinking by examining where we learned these 'rules,' and by recognizing that the journey has just as much to teach us as the supposed outcome.
Pam England is the author of Birthing from Within, a world-renowned book that provides a holistic approach to childbirth by examining it not as a medical event but as an act of self-discovery. Pam lives, works, and paints in Albuquerque, New Mexico. She teaches workshops and speaks at conferences all over the world, on topics such as preventing and healing birth trauma, cesarean birth, storytelling, visualizations and hypnosis, and many other aspects of pregnancy, birth, and postpartum. In addition to working on a number of manuscripts (including ones on prenatal nutrition, birth trauma, and cesarean birth), she teaches childbirth classes and does Birth Story sessions in Albuquerque, NM. In this episode, Pam and I chat about how her birth experience led her to reexamine the way we approach birth preparation, how we can look at big ordeals in our lives as transformational, and what steps we can take to change our unconscious stories about ourselves.
Get the FREE worksheet "Four Steps to Start Living a Well Woman Life" now!
What You'll Discover in This Episode
How you can use Pam's tips for self-discovery to view all of your experiences, even the disappointing ones, as a means for growth

How to question some of the stories you've grown up with to be more flexible and forgiving with yourself

What you can do to prepare yourself for a new position or role in your life, such as a new job or motherhood
Get the FREE worksheet "Four Steps to Start Living a Well Woman Life" now!
More About Pam
Pam experienced her 'shaking of reality' moment at the birth of her son. As a birth educator and midwife, she was shocked, disappointed, and utterly confused when her planned home birth ended up in an emergency c-section. How could she, the authority on avoiding hospital intervention, have ended up in the surgery room on the day of her son's birth? As she lay on the operating table, "all of [her] belief systems fell apart." In her shock, a question popped into her head; "what is it that I need to know as a mother to give birth that I didn't know as a midwife?"
After the birth of her son, Pam began to question the stories we have been told about birth. She has come to understand that "birth is a right of passage," no matter what kind of birth an individual experiences. Since childbirth is something that cannot truly be planned, it is inevitable that during the birth some side of yourself will come out that you did not know was there. Pam saw that as an educator, she "needed to help women, not with education about the medical model or breastfeeding, but with their beliefs: what do they believe about themselves."
Only when we change our unconscious insecurities and expectations about ourselves can we grow in our experiences, and not be met with disappointment and self-loathing.
We need to prepare women for the role they're about to take on//We need to question the 'stories' we learned as children. At the time, interpreted them as truth. Now as adults, can see that they don't hold power.
Check Out the Links Mentioned in This Episode!
Pam England's Birthing From Within
Get the FREE worksheet "Four Steps to Start Living a Well Woman Life" now!