Posts Tagged 'self doubt'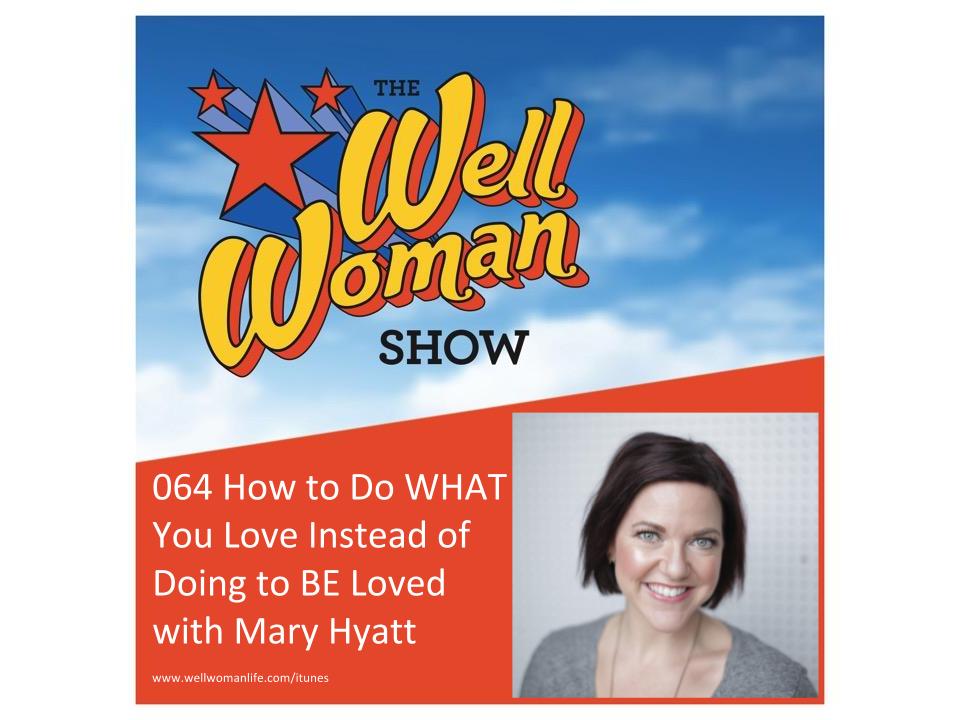 Podcast: Play in new window | Download
Most of us would be proud to call ourselves go-getters. It feels good to say you get ahead and you achieve your goals. Yet, for some of us, despite achieving the goals we set out, we still feel a sense of emptiness or lacking. Life and business coach Mary Hyatt explains that this is an important feeling to listen to. This feeling can be an indicator that your drive is coming from a place of self-defeat. That voice that tells you that you are not good enough or lovable just on your own- you must prove it. While Mary doesn't bash those who are driven, she does explain that it is important to be sure that your drive is coming from joy rather than a yearning to be accepted, and she works with women everyday to fix this.
Mary Hyatt is a life and business coach, a holistic lifestyle advocate, and a Blue Diamond wellness advocate with doTERRA essential oils. After falling into a deep depression in her twenties, Mary had an awakening and realized that to live her life fully, she had to take charge of it. Mary works with women to "create exactly what they desire" in their lives through life and business coaching. While Mary lives in Nashville, she works with women across the country and is in the process of creating an online course to help women to love their bodies, no matter what size they are.
Get the FREE "5 Reasons Your Affirmations Aren't Working" Handout!
What You'll Discover in This Episode
How to recognize if your drive is coming from an unhealthy place, rather than a place of love

How to change your attitude to accept that you are lovable just as you are- you don't need to do anything to prove it

How to move away from negative, self-defeating behavior and recognize the positive in your life

What it means to say our thoughts are connected to our emotions, and how you can use this knowledge to empower yourself
More About Mary
Get the FREE "5 Reasons Your Affirmations Aren't Working" Handout!
In Mary's twenties, she dropped out of college and fell into deep depression. She experiences anxiety regularly, felt completely uncomfortable in her own skin, and gained 80 lbs. She recalls walking into the bathroom one day, looking in the mirror, and no longer recognizing herself. "The exterior wasn't matching who I am on the inside." She realized she didn't want to live her life like that any more. "I was so numbed out, I was dead to the world- sleepwalking."
Mary explains that "becoming aware" was the first part of her transformation. She began to look at her behaviors and her ways of thinking to find the "route cause of all of the numbing." In addition, she became a student. She bought book upon book about self discovery and self help, finally depending on herself to take control of her life and read the books.
Today, Mary focuses on sharing what she has discovered in her journey with others. She focuses on helping women to learn to love themselves so they aren't living their lives trying to earn love from others. At the moment she is particularly interested in living in the moment and acknowledging the positive. "We often relate to others on suffering, pain, hardships," she explains, "it's rare that people respond [to 'how are you doing' with a positive response." Her current goal is to challenge herself to see "how good can I stand it before I feel like I need to self sabotage?"
Check Out the Links Mentioned in This Episode!
Tony Robbins' Unleash the Power Within
Get the FREE "5 Reasons Your Affirmations Aren't Working" Handout!