Posts Tagged 'public speaking'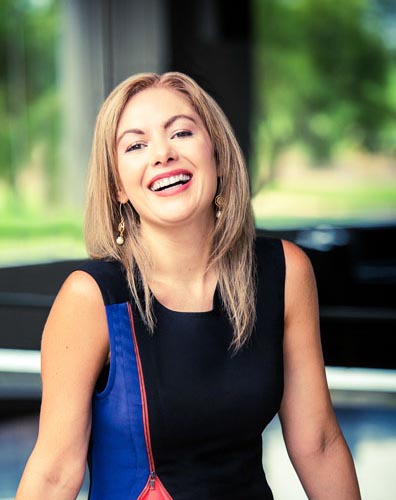 Podcast: Play in new window | Download
As we grow as women, mothers, entrepreneurs, and leaders, we inevitably come to see that we all have strengths. Reflecting on our past accomplishments, it is undeniable that we are capable and skilled. Yet sometimes, often for some of us, we still find ourselves doubting ourselves, lacking confidence, or plainly put, feeling like we aren't particularly powerful. According to The Art of Feminine Presence Instructor Michelle Baca, as women we have an innate, feminine power. We just need to learn how to access and harness it.
Michelle is a Speaker, Best-Selling Author and Confidence Coach helping people develop confidence, charisma, power and persuasion. As a consultant with ConvergenceCoaching, LLC, she aids leaders in achieving success by helping them develop and implement leadership, succession, marketing, and training and development plans. Michelle teaches entrepreneurs and self-employed people how to develop a strong presence and public speaking skills so that they are always ready to make a great impression. Today I talk with Michelle about how she went from being a shy, quiet person to be a successful and persuasive public speaker, how women can use their feminine presence to get ahead and make great impressions, and skills and tips for developing and exuding confidence.
Get Your FREE Chapter of Michelle Baca's Book!
What You'll Discover in This Episode
Specific tips you can take to access your Feminine Presence

Pre-performance rituals you can learn to be more confident, charismatic, and powerful in presentations, meetings, and everyday affairs

How to connect with people on a deep level, to create true communication, meaningful networking, and deep connection

How you can 'bring your comfort zone with you' instead of trying to 'get out of your comfort zone' when trying, and succeeding, at new things
Get Your FREE Chapter of Michelle Baca's Book!
More About Michelle
Michelle was not always a powerful public speaker and coach, nor was she always in touch with her feminine wisdom. Michelle began her career in Information Systems Management. In college she chose this path because it paid well, and that seemed like a good enough reason to pursue it. After graduation she worked as a programmer, made money, and was miserable. Michelle had headaches everyday; she "had MRIs, cat scans, went to neurologists," and no one could figure out what was wrong. Then, the company for which she worked went bankrupt. While her coworkers were devastated, Michelle felt that "this is my chance to not go get another job in this field." She hired a life coach to help her figure out what to do next, and was so inspired by the coaching itself that she went on to pursue that field.
While Michelle used to be a quiet and shy person, by accessing her Feminine Presence she has become more in touch with her inner power, and as a result is able to speak to that power in other people. Michelle's approach to accessing this inner power is unique. While we are familiar with the idea that we ought to 'get out of our comfort zone' to get ahead, Michelle suggests you "take your comfort zone with you wherever you go." By accessing our inner feminine power, we find our inner strength, and we can take that with us wherever we go. It is not unfamiliar or uncomfortable because it has been there all along. Michelle suggests that when we use this secret skill, "we communicate with people in a really honest way." It allows us to be "confident, grounded, and expressive" in our actions, and embody the power and strengths that we know we have.
Check Out the Links Mentioned in This Episode!
Mama Gena's School of Womanly Arts