Posts Tagged 'paid leave'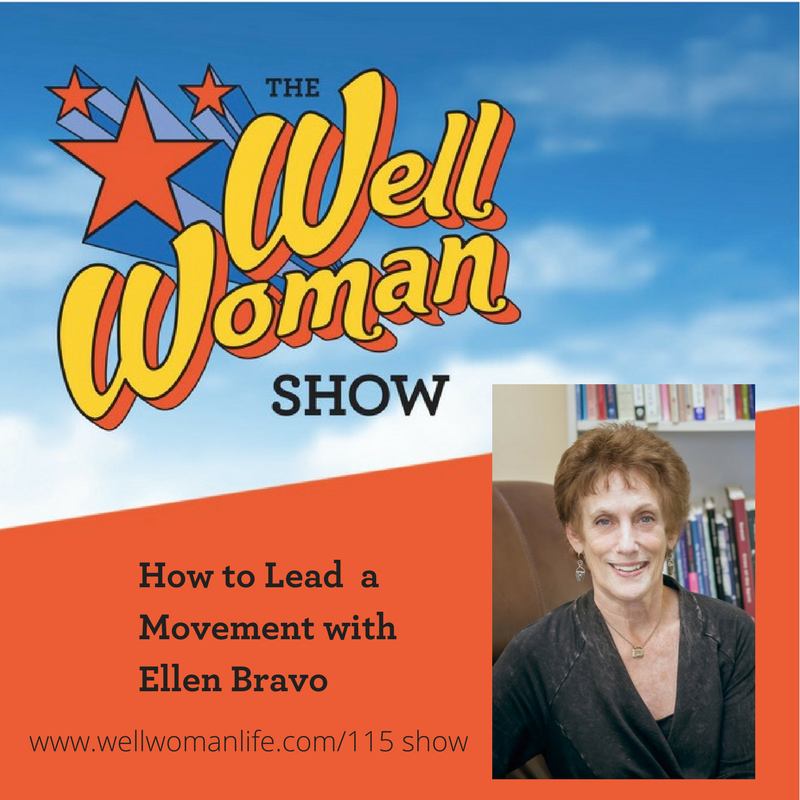 Podcast: Play in new window | Download
"A long time ago, I realized that we can never achieve gender equity or racial equity if we don't revalue women's work, and that includes care giving. As long as women are punished by losing income and jobs and opportunities in the workforce because they have a baby or because they're caring for a parent, or a partner, or themselves, we'll always be behind." – Ellen Bravo on The Well Woman Show (www.wellwomanlife.com/115show)
Today's topic is how to lead a movement based on issues that impact you personally but that you also see could have a much bigger impact and hopefully by the end of the show you'll be inspired to be part of the movement to re-value the work of caregivers and not take it personally when you experience a setback.
The Impact of Our Wins FREE storybook!
On the show today is my guest, Ellen Bravo who directs Family Values @ Work, a network of coalitions in 27 states working for policies such as paid sick days and family and medical leave insurance. Previously, Ellen was the director of 9to5 and has written several non-fiction books.
What you'll learn in this episode:
How Ellen inspire's people and how you can too
After decades of working to support working families, how Ellen takes care of herself
What the most successful people in social justice work value the most
Where the US is compared to other states on valuing caregivers work and paid family leave
What Gloria Steinem says about equality INSIDE the home.
"And Gloria Steinem has often said, if we want women to be equal outside the home, men need to be equal inside the home. I know many, many men who are and would be good fathers, sons, and husbands, but get punished for it at work. That needs to change. And also there are a lot of same sex couples who would like to care for each other in sickness as in health, and care for their children and are stymied because there is no leave." – Ellen Bravo
The Impact of Our Wins FREE storybook!
Links mentioned on the show:
Family Values @ Work
Zero Weeks
Links to books mentioned on the show:
Happiness by Aminatta Forna 
Lucky Boy by Shanthi Sekaran 
Little Fires Everywhere by Celeste Ng
Alternate Side- Anna Quindlen

Podcast: Play in new window | Download
What does the word 'feminism' mean to you? Do you struggle over whether or not you identify as a feminist Many of us exemplify feminism in our actions in its true meaning, yet some of us have an aversion to identify with the term due to negative associations. EMILY's List founder Ellen Malcolm has seen the rise and fall and rise again in popularity of the term. To her, the word itself is not as important as fighting for what it really means: equality between men and women. Today I speak with Ellen about how she advocates for gender equality and greater female representation in politics.
My guest today is Ellen Malcolm, founder and board chair of EMILY's List, an organization that seeks to give female political candidates credibility and resources to win by developing a a donor network that encouraged members to contribute to the candidates EMILY's List recommends. Ellen is a veteran Democratic activist and fundraiser who began her career as an organizer at Common Cause and later served as press secretary for the National Women's Political Caucus. In 1980, Ellen went to work at the White House as the press secretary for President Jimmy Carter's special assistant for consumer affairs. Ellen is a recipient of Planned Parenthood Federation of America's Margaret Sanger Award — the organization's highest honor and has been named one of the most influential women in America by Vanity Fair, one of Glamour magazine's Women of the Year, and one of Ladies' Home Journal's 100 Most Important Women in America. Today I speak with Ellen about the changes and challenges EMILY's List has faced over the years, the importance of including female voices in politics, and how she has been able to make real, sustainable change nationally.
Get the FREE worksheet "Well Woman Life Cycle" now!
What You'll Discover in This Episode:
What you can do today to encourage more female and family friendly policies

How Ellen avoids burnout and why she thinks taking a break from work makes her a better, stronger worker

How you can get involved in the political system to make a difference from the inside out
More About Ellen
Ellen has been active in politics since the 60's. After graduating college in 1969 she became involved in the anti-war movement and participated by demonstrating and becoming active in rallies; fighting from the outside. Ellen says she recognizes herself in Bernie Sanders-supporting millennials today. There is dissatisfaction with the way the government is running, and people want change. For Ellen, after trying to change from the outside and having little success, she "decided that I wanted to go inside the system and make a difference." She knew that there was little female representation in politics, and decided to take this on as her challenge.
Ellen began EMILY's List in 1985 to help connect funders with female candidates to ultimately introduce more female voices in to our government. "EMILY's List is an acronym, standing for "Early Money Is Like Yeast" (i.e., it makes the dough rise)," as Ellen recognized that financial backing is the starting point to get women into office. Thirty years later, EMILY's List has seen the election of 11 female governors, 19 Senate members, 110 House of Representative members, over 700 state and local office successes, and the first female presidential candidate.
Today, EMILY's list is proud to have seen such incredible change in a short period of time, but Ellen recognizes that there is still significant work to be done. She suggests the best way to initiate more change is for women to run for office, and she encourages any and all women to consider it.
Describe one personal habit that contributes to your well-being:
Walk my dogs.
What super power did you discover you had only to realize it was there all the time?
Public speaking.
What advice would you give to your 25 or 30 year old self?
Expose yourself to a lot of different things.
Check Out the Links Mentioned in This Episode!
When Women Win by Ellen Malcolm
Born to Run by Bruce Springsteen