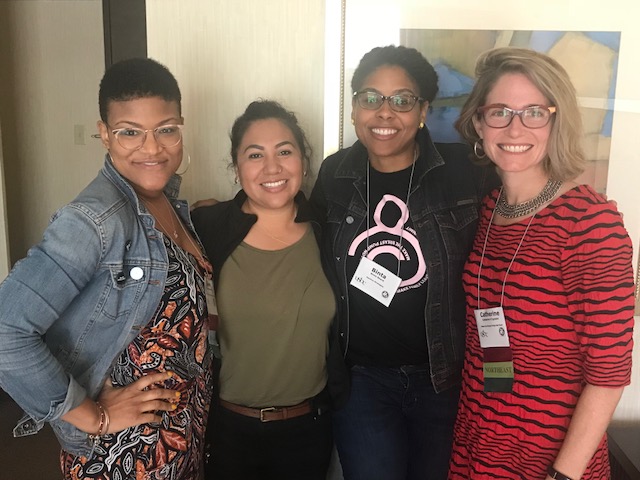 Podcast: Play in new window | Download
Today's topic is Disrupting to Innovate. We disrupt the narrative that you have to hustle, compete, and succumb to hate in order to get ahead as a woman, as a nurturer, as a leader or as a business owner in order to create what we know to be true – that we can lead with self care, collaboration and love as our focus to achieve our goals and live the life we desire. I will walk you through the four stages of the Well Woman Life Cycle as we disrupt in order to innovate. Then, I'll talk to an incredible group of women who are disrupting current systems and norms around breastfeeding and pumping in order to innovate in research and tech, change public and private policy and shift social norms.
For high achieving women, it's hard to sit by and watch our lives unfold in ways that don't live up to the expectations we have for ourselves, whether it's relationships, our health, our financial success or our career. We know that there is so much more we can contribute to the world and we are ready to step up, meet the challenge and be rewarded for investing in ourselves and for serving others. But there are challenges. We are hard workers, yet we tend to over do it. We are determined and strong, and we sometimes don't know when to slow down, or how to. We are focused and driven, and realize we need to course correct in major areas of our lives, which can lead to huge shifts and that can be difficult to manage.
The self help world relies on individual behavior change (work on yourself first in order to change the world) – that we have to hustle, compete, and succumb to the many forms of hate in order to get ahead as a woman, as a nurturer, as a leader or as a business owner. I believe we have to disrupt this narrative in order to create what we know to be true – that we can lead with self care, collaboration and the many forms of love in order to achieve our goals and live the life we desire. I propose that real change is determined by the interaction of two factors, not one: individual change AND environmental or external change. And the interaction of these two factors determines which stage we're in.
If you want to find out which stage you're in, go to wellwomanlife.com/quiz to learn more. And we'll be going deep into this at the retreat on September 9th so definitely check out wellwomanlife.com/eventsfor more information.
For more about the framework, listen to episode 50 at wellwomanlife.com/059show
In the United States, only 22 percent of babies are exclusively breastfed for the recommended six months. New parents face challenges including stigma, lack of access to education and resources related to breastfeeding and pumping, unfriendly employer policies, unforeseen costs, and racial bias in the health care system.
The first Make the Breast Pump Not Suck Hackathon, in 2014, focused on the technological and physical difficulties of pumping because the basic technology and structure of the standard breast pump hasn't changed much since its creation in the 1850s. This year's breasfeeding festival included over 175 engineers, advocates, health care experts, parents, and students to address the many challenges of breastfeeding and pumping.
I caught up with some of the Make Breast Pumps Not Suck Breastfeeding Festival team at the recent US Breastfeeding Committee conference in Atlanta, GA. I talked with Binta Beard/Policy Summit Lead, Catherine D'Ignazio/Executive Director, Rachael Lorenzo/Community Innovation Team Leader, Becky Michelson/Program Manager and Jenn Roberts/Equity and Inclusion Lead. You can read their full bios below.
What you'll learn in this episode:
1) how the Well Woman Life Cycle works and what each stage means
2) how to start noticing things that don't work for your gender, culture or body
3) how a festival and hackathon disrupted the dominant culture of breastfeeding and pumping
---
Guest Bios:
Binta Beard is Managing Partner at Equinox Strategies, where she provides strategic consulting to clients on a range of health and public policy issues. As a veteran staffer of both the House and Senate, she understands the dynamics of the administration and Congress. With this experience and her background in public health, she possesses the knowledge needed to navigate today's complicated public policy issues.
As a Principal at the Podesta Group, Binta was client manager for multi-national companies, one of the country's largest foundations committed to the well-being of children, and a non-partisan children's health advocacy group. On Capitol Hill, she served as Senior Policy Advisor to Majority Whip Senator Richard Durbin (D-IL), where she led the senator's health portfolio. In this position, she drafted legislation and amendments enacted into law, worked with committees, and partnered with public and private stakeholders. Prior to Sen. Durbin, she served in the House of Representatives as Legislative Assistant to then-Rep. Ed Markey (D-MA), a senior member of the House Energy and Commerce Committee. Binta managed health legislative priorities, including passage of health care reform.
Before arriving to Capitol Hill, Binta worked in the public health sphere in many capacities. She conducted obesity and cancer prevention research at Dana-FarberCancer Institute, examined barriers to and the indirect costs of health care at Brigham & Women's Hospital, and investigated disparities in children's exposure to toxins at the Agency for Toxic Substances and Disease Registry in Atlanta. She received a doctorate in health and social policy and a master's in health and social behavior from the Harvard School of Public Health. She received her bachelor's degree from Wellesley College.
Catherine D'Ignazio is a hacker mama, scholar, and artist/designer who focuses on data literacy, feminist technology and civic engagement. She has designed global news recommendation systems, run women's health hackathons, and created talking and tweeting water quality sculptures. She is the Executive Director of the Make the Breast Pump Not Suck Project that convened 300 innovators at MIT to envision the future of breastfeeding and paid leave in the US. D'Ignazio is an Assistant Professor of Civic Media and Data Visualization at Emerson College, a Senior Fellow at the Engagement Lab and a research affiliate at the MIT Media Lab.
Rachael Lorenzo (Mescalero Apache/Laguna Pueblo/Xicana) is a queer mother of two and lives in Albuquerque, New Mexico. She was born in Las Cruces, New Mexico to young parents and was raised on her father's ancestral land in Laguna, New Mexico. Rachael graduated with a BA in political science and a Masters in public administration, focusing on public health; both degrees are from the University of New Mexico. Rachael studied political campaigns, participated policy analyses, and has been consulted for her expertise in public health policies that could impact indigenous communities.
Rachael was not only raised on her traditional values but also on politics. Throughout her academic career, she volunteered for political campaigns, ranging from city council elections to presidential campaigns. She was selected as a fellow for President Barack Obama's 2012 reelection campaign, Obama For America (OFA). She was also a part of cohort of brilliant change-makers in the Western States Center's Western Institute for Leadership Development (WILD) and completed Emerge New Mexico in 2017.
Becky Michelson is a Boston-based strategic partnerships lead and design-researcher for social impact initiatives at The Engagement Lab at Emerson College. She is passionate about how marginalized communities can leverage participatory design and storytelling methods. Her approach incorporates design-thinking, playfulness, and qualitative research. This is why her work broadly spans from media literacy game development to civic media network building and NGO capacity building.
Trained in Cultural Anthropology at University of California Davis, Becky has applied her passion for applied ethnography to research studies on storytelling for social change. Her work has been published in media literacy and social computing journals. She has facilitated dozens of games and design-thinking strategy sessions for leadership with: the United Way, Greenpeace, the Participatory Budgeting Project, and and the Office of Science and Technology Policy under the Obama Administration. She managed the production of The Public Engagement Roadmap – a suite of creative planning resources for cities and governments.
Currently, Becky is the Program Manager for the "Make the Breast Pump Not Suck" research, hackathon, and Policy Summit. She also strategizes for several multimedia projects at the Engagement Lab at Emerson College that focus on meaningful engagement in the public sector.
Jenn Roberts is an educator, facilitator and mother who brings over 15 years of experience and passion in race and equity work. She began her career in education teaching 3rd grade in Chicago Public Schools. After teaching she went on to support new teachers in the classroom, develop curriculum for new teacher certification, and train school leaders in best practices in human capital. In 2011 she moved to DC Public Schools, where she helped to lead the DCPS Office of Human Capital in developing the will, skill, and courage to interrupt inequities and create more equitable policies and outcomes for DC students. She founded Versed Education Group in 2015 to continue this work, assisting organizations in developing their skill to operate from a place of equity as a habit. She served as the Equity and Inclusion Lead on the Make the Breast Pump Not Suck Project and is a proud alumna of Spelman College, which she credits in nurturing her desire to lead through service. Jenn lives in DC with her spunky and creative 6-year-old daughter, Nia.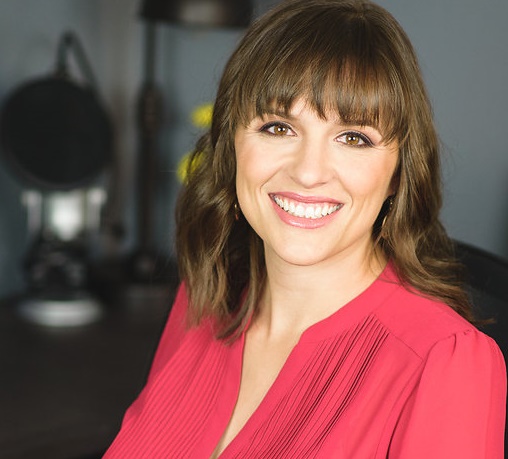 Podcast: Play in new window | Download
Creating a Full Integration of Family and Work
Many of us struggle to find some sort of balance between work and family. We feel that if our business is thriving, our family life is likely compromised; and if our attention is on our family, our business is floundering. It's as if we can be only a mother or a business owner; only one can function at a time.
According to Boss Mom founder Dana Malstaff, we've been thinking about this dichotomy all wrong. As a mother and an entrepreneur, Dana suggests we stop thinking of the two roles as rivaling parts of our lives. Instead, she proposes that we integrate the two parts into one, to nurture both our family and business. Further, Dana explains that when we look at our various roles in this integrated way, the parts transform from rivals into compliments, and each actually strengthens the other!
Today I talk with Dana Malstaff, mother, author, business & content strategist, coach, podcaster, and blind spot reducer. Dana is the author of Boss Mom: The Ultimate Guide to Raising a Business & Nurturing Your Family Like a Pro, and the founder of the Boss Mom Movement. She serves Boss Moms who yearn for more time and less guilt when it comes to building their business and starting or raising their family, by providing the tools they need to get more out of their content and business, without sacrificing their family goals.
Get my FREE chapter of the Boss Mom book now!
What You'll Discover in This Episode:
Why Dana hates the term "work-life balance" and the language she chooses to use to talk about juggling many roles
How Dana plans both family and work time into her schedule in an integrated, realistic way, including app recommendations and daily rituals
How you can take some simple steps to begin integrating your family and work life into one, cohesive day
How Dana still manages to get 'self-time' in, despite her packed schedule
More about Dana:
One could argue that two of the most difficult tasks a person could take on are starting a business and becoming a parent. Dana could tell you plenty about that, as she started both at the same time. As luck would have it, Dana became pregnant on the eve of her celebratory party, honoring the beginning of her business. In a way this turn of events was a blessing, as it has shaped the direction that her business has taken.
Before Boss Mom, Dana worked as a business and content strategist with a broad clientele. As a mother and an entrepreneur, Dana found herself wracked with guilt about owning a business while raising a family. She felt the way many of us do: if we pursue our career dreams, we are sacrificing something in our family lives; we can only have one. However, when she looked at the way she had created her life, she realized that she was in fact able to have both.
This realization came at a time when she was seeking out help from a book writing coach, as she had plans to write a book. It became very clear to her that many women hear this same message, and in fact it's not true! Dana discovered that being a successful business owner actually nurtures her family. By pursuing her career goals, she is an example to her children of the importance of following your dreams.
Dana is not suggesting that being both a mother and an entrepreneur is an easy task; she just suggests we approach these two roles in a more holistic, integrated way. For example, instead of having a work schedule and a family life schedule, Dana combines the two. Since one inevitably influences the other, doesn't it make more sense to take them both into account? When we dedicate ourselves to doing everything that we want to, we're essentially acknowledging that one side is going to be sacrificed. But if we commit to a realistic schedule on both ends, both our family and work life goals will be achieved. When we do that, she explains, both sides thrive.
Get my FREE chapter of the Boss Mom book now!
More About Boss Mom:
Boss Mom is a consulting company dedicated to helping mothers and new entrepreneurs alike get their business plan off the paper and into reality. Dana comes from the perspective of a mother trying to get a business up and running, but the format is really applicable for anyone. Boss Mom provides a community of working moms helping one another to get their business started and sustained. Boss Mom emphasizes the impact that following your career dream has on your children: "pursuing our passions is a magnificent way of showing our children that 'work' doesn't have to be a negative word."
Describe one personal habit that contributes to your well-being:
I floss everyday.
What super power did you discover you had only to realize it was there all the time?
I have a lot of empathy.
What advice would you give your 25 or 30 year old self?
Accept all the support you can get.
Check Out The Links Mentioned in This Episode!
Boss Mom: The Ultimate Guide to Raising a Business & Nurturing Your Family Like a Pro
 Free webinar that shows you how to translate your business goals into an action plan: www.boss-mom.com/webinar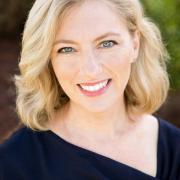 Podcast: Play in new window | Download
Todays topic is Mom Power, and hopefully by then end of this show you will be ready to take action, whether you are a mom or not, whether you have kids at home or not.  If you're invested in raising the next generation of kids as a mom, aunt, grandmother or friend, you'll want to listen up!
My guest today is Kristin Rowe-Finkbeiner, Executive Director/CEO and Co-Founder of MomsRising and she's the author of the Motherhood Manifesto: what America's moms want and what to do about it.
Today I'm going to talk with Kristin about the power of raising the next generation. Whether you're a mom, sister, aunt or grandmother you'll learn about the issues and what you can do to help. That's what this episode is all about.
I talk to Kristin Rowe-Finkbeiner about making time in your busy schedule, juggling things, realizing that you can't do everything, working in a team so you're not alone, having lots of partners, finding mentors, and also embracing failure.
And, the free give away today is a worksheet I developed called "The Elements of a Well Woman Life" and listeners can download it here. Get the FREE worksheet "Four Elements of a Well Woman Life" now!
I love the worksheet because it offers a quickie self assessment so you can see where you are with the necessary building blocks and outcome areas for all Well Women. I'm thinking about doing a bonus episode dedicated to this topic so stay tuned for details about that.
Get the FREE worksheet "Four Elements of a Well Woman Life" now!
Motherhood in America
When we reflect on the state of women say, one hundred years ago, it is clear that phenomenal progress has been made toward gender equality. So much has changed and improved to make opportunities more accessible for women that many of us don't feel that gender equality is an issue anymore; it's a problem of the past. However, when you take a look at stats in areas such as pay equality and healthcare accommodations, women, and in particular, mothers, come out on the bottom. Many people aren't aware of these inequalities until they affect us directly as women, wives, or mothers.
For Kristen Rowe-Finkbeiner, Director, CEO and Co-Founder of Moms Rising, that realization didn't happen until she became a mother, trying to balance her career with the care of an ill child. She suddenly saw that women are discriminated against for fulfilling one of the most important roles a person can undertake: motherhood. This realization led her to embark on a journey to fight for women's and mother's rights that has led to a thriving nationwide movement.
Today I talk with Kristin Rowe-Finkbeiner about her journey to creating MomsRising, the work that MomsRising does and how she runs a successful business and finds time for friends, family, and herself.
What You'll Discover in This Episode:
Some of the issues that MomsRising tackles, and why they matter to you
How MomsRising's work has led to changes on the national scale, and how you can contribute to their work
Kristin's advice for creating a successful national business, including tips on working with others and bringing together great minds for a greater whole
More About Kristin Rowe-Finkbeiner
Prior to founding MomsRising Kristin had worked in environment science. In that field, gender inequality didn't come up regularly, so she was able to balance her roles as career person and wife fairly smoothly. Only after the birth of her son did it become clear to her that there is something wrong with the treatment of mothers in our country. As she looked more closely at the issue she came to see that not only are there serious barriers for women to maintain a reasonable income while mothering; women are actually discriminated against for being mothers. While she had to leave her job to be a full-time at-home mom, she realized that was lucky. For women who do not have a supportive partner or health insurance, motherhood means poverty. She recalls looking at a ring on her hand, a family heirloom passed down from her mother and her mothers' mother before her, and feeling a calling to band together with other women and work for women's rights around this issue.
Today Kristin functions as the Executive Director and CEO at MomsRising. The work she has contributed has led to policy changes such as the banning of junk food from school lunches, the development of laws protecting pregnant workers, and advancements in affordable childcare. MomsRising enacts changes through four avenues:
Bringing the voices and real world experiences of women and mothers straight to local, state, and nation's leaders
Amplifying women's voices and policy issues in the national dialogue & in the media across all platforms (from print, to radio, to blogs, social media, and more)
Accelerating grassroots impact on Capitol Hill and at state capitols across the country
Holding corporations accountable for fair treatment of women and mothers & for ensuring the safety of their products.
There are many ways to get involved with the important work that MomsRising does, and as MomsRising likes to say, the door to get involved is open to who has a bellybutton; if you've had a mother motherhood impacts you. Check out the links at the bottom of the page to find out how you can get involved!
While Kristin has a lot on her plate, she still makes self-care a priority. She says she can thank her team for creating a work environment that allows everyone to prioritize self-care. Kristin clearly has experience running a successful business, and I was so impressed to learn about some of her leadership secrets. While there's often a 'fight your way to the top' sort of attitude in the business world, Kristin's success comes from doing the exact opposite. She emphasizes the team over the leader and explains again and again how this team mentality has allowed MomsRising, and her, to find success as well as maintain a social and family life.
What super power did you discover you had only to realize it was there all the time?
The super power of her family legacy to fight for women's rights.
What advice would you give to your 25 or 30 year old self?
Stick to it.
Check Out the Links Mentioned in This Episode!
The F-Word: Feminism in Jeopardy- Women, Politics, and the Future by Kristin Rowe-Finkbeiner