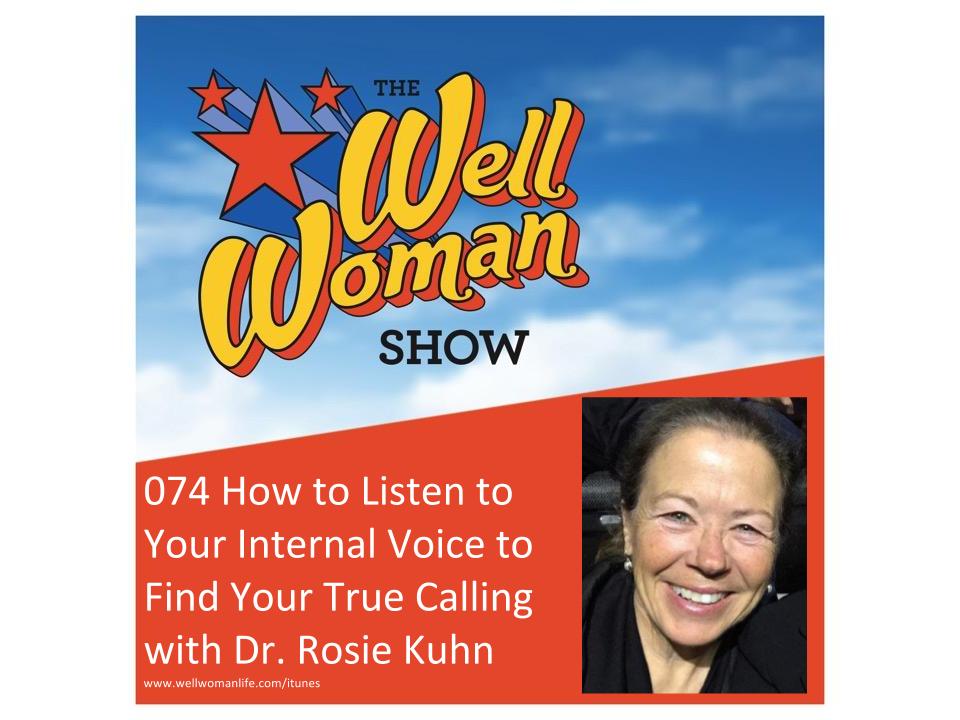 Podcast: Play in new window | Download
Get Dr. Rosie Kuhn's FREE eBook!
When we're on the cusp of a transformation, we are often very uncomfortable. We're not content with our current lifestyle, but we don't know exactly what to do to find that happiness. Our ideas about our identity and purpose are about to shift, and this can be a very scary prospect. The one thing worse than feeling stagnant is change: we want things to remain the same, because we don't want to throw away all of our hard work. Who will we be without our achievements? According to Dr. Rosie Kuhn, when it's time to make that change, "there's a deconstruction process that you go through." And the way to get through that deconstruction process is to shut off the external, and look within to find your true calling.
In this episode I speak with Dr. Rosie Kuhn, preeminent thought leader, coach and leadership facilitator. Dr. Rosie is a speaker, author, and facilitator. As a Transformational Life and Business Coach, she encourages her clients to think beyond their limited sense of reality. Her books, blogs, videos and podcasts engage and inspire her audience to question the source of their decision making. Dr. Rosie is considered to be a preeminent thought leader in the field of Transformation and Transformational Coaching. She is the author of many books, including Self-Empowerment 101, and newly published Cultivating Spirituality in Children. As the founder of The Paradigm Shifts Coaching Group, Dr. Rosie specializes in empowering individuals to fearlessly embrace transformation. She has worked in the field of transformation for over 20 years. In this episode, Dr. Rosie and I talk about how you can tell when it's time to make a shift in your life, how to move away from fear-based decision making and lead with fierce love, and why it's so important to embrace, rather than resist, transformation.
Get Dr. Rosie Kuhn's FREE eBook!
What You'll Discover in This Episode
How Dr. Rosie inspires her clients to embrace change
Why, if you want to be a successful leader, you need to be willing to experience transformations
How you can begin your process of transformation
More About Dr. Rosie
Before founding the Transformational Coaching Training at the Institute of Transpersonal Psychology, Dr. Rosie working for 30 years as a life coach, marriage and family therapist, spiritual guide. She began her career as a clinical therapist for addiction recovery programs, and founded the The Paradigm Shifts Coaching Group in 1999.
Dr. Rosie helps people to find the right questions to ask themselves to begin the process of transformation.  "Most people are not asking the right questions," she explains, adding that then the "source of the insecurity is never revealed and expressed." Instead, people will often live in cycles of anxiety, knowing that the way they are leading their lives is no longer fulfilling, but not having the tools or direction to make whatever change may be needed.
The most difficult part about making a life change is the vulnerability that is required. As a coach, she says that it is her job to "not support you in avoiding that vulnerability." Instead, she helps her clients to answer the question: "how do you move forward even though you feel vulnerable, even though its messy?"
This work is essential for anyone who seeks to lead others or wants to find success. "To be truly a leader in the world means you have to face the stuff that's messy," Dr. Rosie explains, "because you're going to lead people through messiness."
Check Out the Links Mentioned in This Episode!
The Paradigm Shifts Coaching Group with Dr. Rosie Kuhn
A Course in Miracles by the Foundation for Inner Peace