Posts Tagged 'creative writing'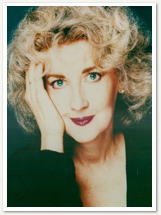 Podcast: Play in new window | Download
Many of us yearn for a creative outlet, but we just don't know where to start. Perhaps we've tried drawing classes or attempted to journal but it just won't stick. Or we will have an idea for a creative project and won't get around to doing it. You're not alone. Even world-renowned artist and bestselling author Julia Cameron experiencing this distress, and today she shares some of her secrets to accessing creativity and coming into your authentic self!
Julia is author of bestsellers The Artist's Way, Finding Water, The Vein of Gold, Walking in this World and The Right to Write, which are taught in universities, churches, human potential centers and even in tiny clusters deep in the jungles of Panama. Julia also has extensive film and theater credits, which include such diverse work as Miami Vice and the prize-winning romantic comedy God's Will, which she both wrote and directed. She is recognized as the founder of a new human potential movement that has enabled millions to realize their creative dreams. Today I speak with Julia about her creative process, listening to your inner voice, and achieving what you want through perseverance, discipline and authenticity.
Get the FREE Artist's Dates exerpt from Julia Cameron!
What You'll Discover in This Episode
Three actions you can take every day to start accessing your inner creative self
How to schedule creative time into your day, even with children
Tips to help you overcome a creative 'hump' and begin using creative thought, in your daily life, hobbies or business
Get the FREE Artist's Dates exerpt from Julia Cameron!
More About Julia
Julia's passion for creative expression began at a young age. When she attended college at Georgetown University, she felt called to write poetry and sought to be an English Major. In the 1960's a literary career was not a traditional path for women, and Julia was met with barriers and discouragement again and again. When she wasn't allowed to study English at the College of Arts and Sciences she started a women's lib chapter at Georgetown. This movement ultimately led to Julia, along with seven other women, to be the first female graduates from the College of Arts and Sciences in 1970.
This perseverance has been both a conscious and unconscious theme throughout Julia's life and career. There have been many obstacles Julia has had to overcome throughout her career as a woman writer and artist, but she admits that the discipline is something innate within her; she can't help it. She also can't help from writing; she finds that she is irritable and on edge when she is not in the midst of a creative project.
I caught Julia at one of those 'difficult places' when she isn't quite sure what the next project will be. While it is not a comfortable state, it is a crucial time in Julia's creative process. When she has no projects on the forefront she dedicates herself to 'prayer through writing.' She writes to her muse seeking out help, in the form of her ritual morning journal writing, or morning pages, and listens to see what that response is. Julia finds that she is often resistant to whatever it is that comes up. She will allow herself procrastinate on acting, dwelling in anxiety for a few more days before doing what she knows she must and listening to her inner voice, an experience I think we can all relate to.
Julia's most recent projects include a play and the completion of her newest book, It's Never Too Late to Begin Again: Creativity at Midlife and Beyond, co-written with Emma Lively. This book introduces a fourth creative ritual into those described in previous books (morning pages, artist's date, and weekly walk), that of memoir writing. While aimed at an audience in the retirement stage of life, the tools Julia describes can be used at any age.
What super power did you discover you had only to realize it was there all the time?
Perseverance.
What advice would you give to your 25 or 30 year old self?
Start writing morning pages.
Check Out The Links Mentioned in This Episode!
Julia Cameron's New Book, It's Never Too Late to Begin Again: Creativity at Midlife and Beyond