Well Woman Drinks @ Podcast Movement 2017
Price: Free for first time guests and members
Date: Tue, Aug 22, 2017 5:30 PM - Tue, Aug 22, 2017 7:30 PM
Venue: Anaheim Marriott (exact location TBA)
Location: Podcast Movement 2017 in L.A.
Join other women podcasters for a social, supportive, deep connection meet up over a glass of your favorite happy hour drink!
Are you a high achieving woman who wants to make a bigger impact in the world and live a fulfilled life? Are you doing too much or always "too busy" and still not achieving what you want in your personal or professional life? Join Well Woman Life founder, Giovanna Rossi, and other women podcasters on Tuesday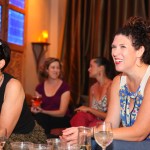 August 22nd for Well Woman Drinks at Podcast Movement in LA! Come connect with other women and get the support you need to FINALLY make the changes you've been dreaming of.